By Jeanna Fournier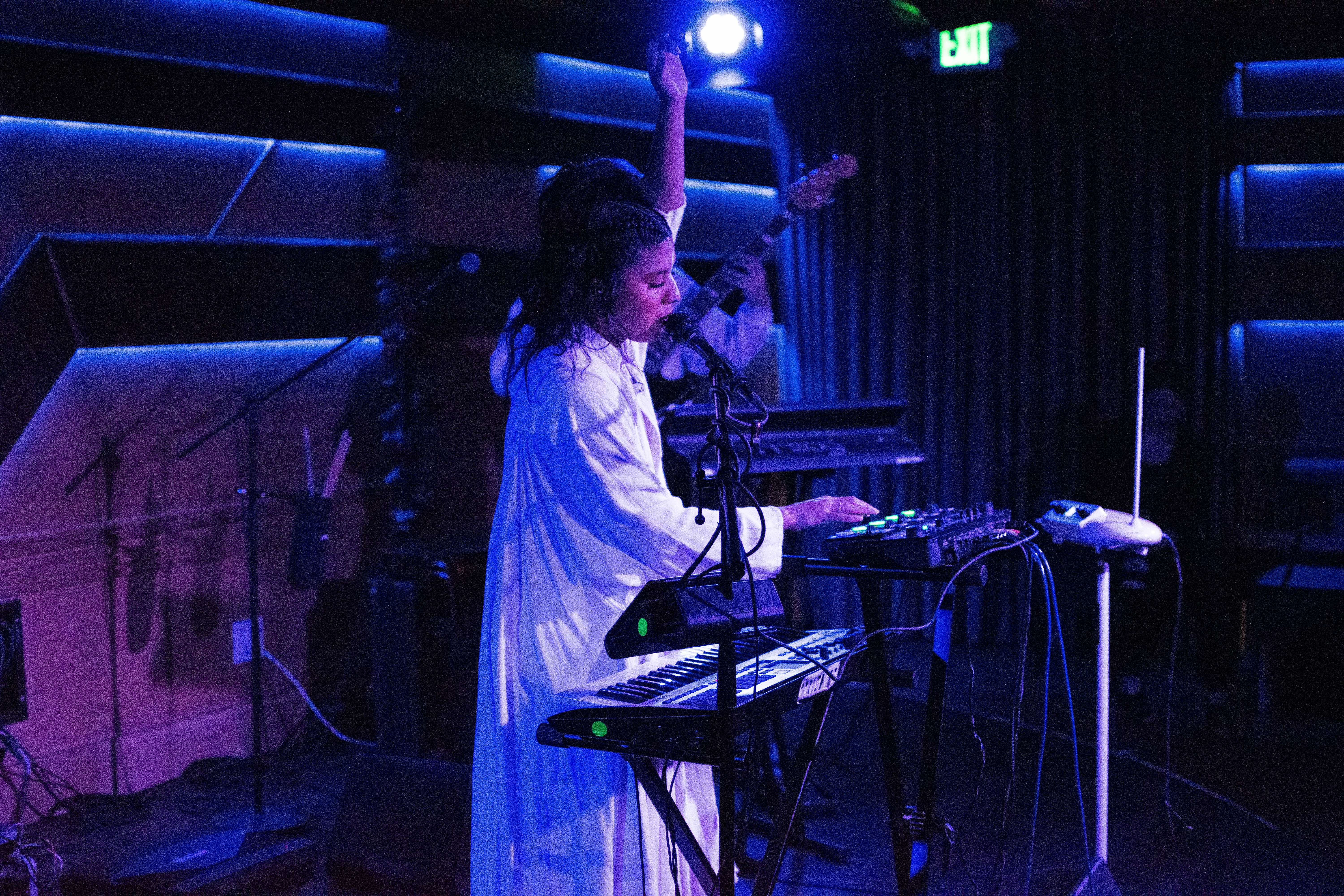 After winning tickets to see TRISHES at West Hollywood's newest venue, The Sun Rose, I was excited to check out the project by Trinidadian-American artist, Trish Hosein, who I discovered recently through her elaborate looping videos and thought-provoking pop. Her latest album The Id (following her debut EP, Ego) is a 16-track trip through the human psyche featuring her original songwriting garnished with spoken word and accompanied by her hand-drawn monochromatic album art, a project she says was created to "express Freud's constructs of self" and "work through [her] inner conflicts." 
The Sun Rose is part of the newly built Pendry Hotel and Britely Social Club. I had mixed feelings about the beloved House of Blues turned luxury hotel, but I was glad to see they are preserving the rich musical history with a beautifully designed venue featuring exquisite sound. With a buzz around the inaugural residency featuring Jeff Goldblum & the Mildred Snitzer Orchestra last year, it's now the new hub for the weekly It's A School Night showcase. It was a Friday night and I headed to the posh Sunset Strip venue in full fashion, brought my psych-grad date along for the ride for some good-old Freudian conversation, and kicked off the night with a dirty martini overlooking the gorgeous Hollywood Hills view from the balcony. 
In a world where social media reigns and many producers re-enact their productions in "live looping" videos, I was especially intrigued to see TRISHES craft her intricate songs and sounds in action. It's no easy feat to pull off looping vocals and synths live and TRISHES did it with precise musicianship, style and a little theremin to top it all off.
Draped in a long white shawl with a tribal stripe cascading down her face, TRISHES came in warpaint and all to conquer the misconceptions, purify the lost souls and preach her Freudian truths. I felt like a student at the Churches of TRISHES and I was ready to dive deep into "The Id" of my mind. I watched as her sonic sermon hypnotized the audience with splashes of spoken word and lush layers of vocal hooks swimming through rich synthesizers and deep hip-hop beats. 
I thoroughly enjoyed the performance of "Big Sunglasses," the second single from her album that was featured by Billboard last year. With lyrics that contemplate the man-made shields that alter our perceptions, TRISHES delivered a powerful performance that shivered the senses. The accompanying music video for the track is equally powerful, featuring the artist portrayed as all three participants in a Milgrim Experiment-esque plot. 
Dipping further into the themes of The Id and the suppression of fear and shame, TRISHES' song "Animal" looped through rhythmic vocal layers as she declared "Maybe I'm no good," searching for an answer to the primal self and the innate urges of the human mind. She further emphasized these themes in her cover of Nirvana's "All Apologies," transforming it into a swaggering, stripped down song that soothed the psyche, concluding with the looping and detuning of "All we are is all we are" over a big dance beat. 
Joined by her bandmates on drum pads, bass guitar and synth, the late Hollywood crowd went wild when she triggered a glitchy vocal stutter on an effects pedal during "Instant Gratification," a song that explores the human desire for immediate pleasures. The performance certainly did just that. Churning out an entrancing melody with the wave of her hand during a theremin solo, it's those embellishments that make TRISHES' live show truly captivating to watch and listen. She has a unique ability to expertly blend sounds and textures together with her silky and powerful vocals that are immensely gratifying to the ear. 
I was truly impressed with TRISHES' live performance at The Sun Rose and will be looking out to catch her next shows. Until then, I'll be listening to the psychological-pop songstress on repeat and I recommend you do the same!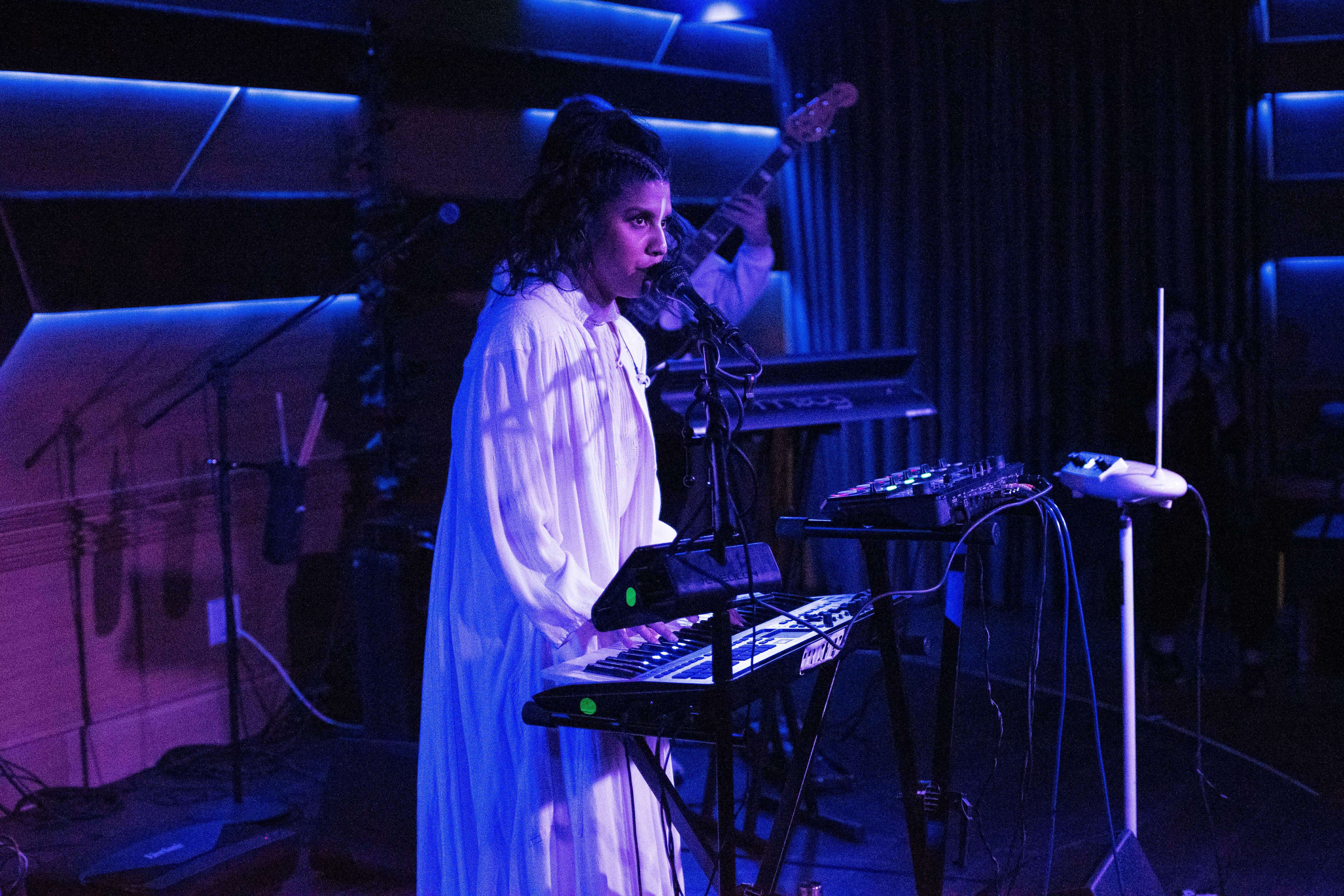 Photos by Coconut Spaceship
Listen and follow TRISHES at the links below: