By Jeanna Fournier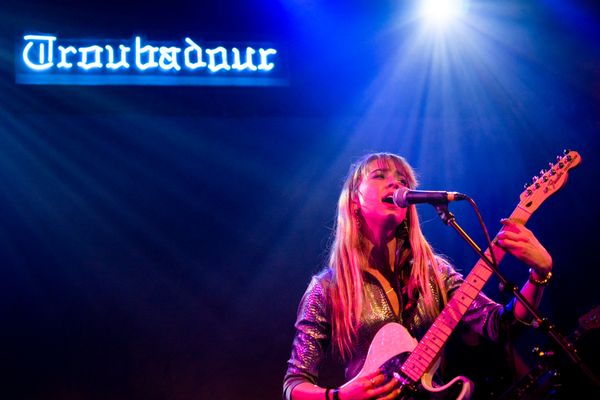 I had the pleasure of attending Fan Girl Cafe's event at the world famous Troubadour last Sunday night featuring some of today's hottest up-and-coming artists including Jax, Kat Cunning, TRACE, Alicia Blue, KingQueen and Noah Vonne. The event also showcased artwork by some of LA's most talented female+ photographers and artists including Michelle Shiers and Tammie Valer, and was hosted by on air personality Megan Holiday of KROQ and drummer/podcast host Jess Bowen (The Summer Set, Tessa Violet, Babes Behind the Beats).
Betsy and Cynthia Martinez are the "friendly, queer, music obsessed partners" behind Fan Girl Cafe, who posted "[their] goal is to raise awareness (and a little bit of funds) for the opening of [the] forthcoming space, but most importantly, to bring you a night you won't forget!"
It was certainly a night I won't forget with engaging performances from female+ artists mostly new to me, spanning genre, time and space. Joined by our head of artist relations, Aimie Lovett Sommer, we enjoyed taking a night off from working behind the scenes at our own events to Fan Girl the F out! What better way to kick off Women's History Month than spotlighting these fierce female+ artists...
NOAH VONNE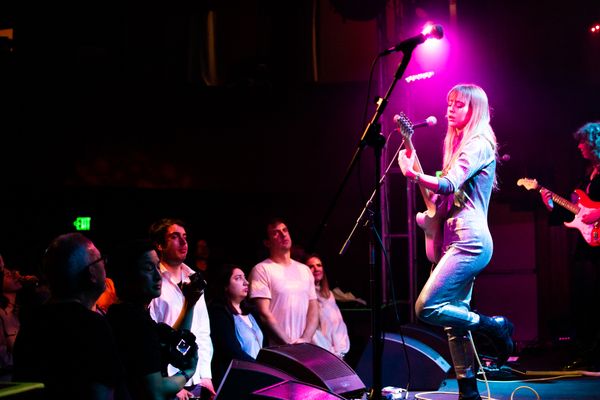 Noah Vonne kicked off the night with her stellar all-girl band, featuring co-host Jess Bowen on drums. She serenaded the audience in a shiny jumpsuit with her rock infused, melodic soul pop that was just as infectious as accessible to new listeners like myself who were not previously familiar with Vonne's music. The band's precise musicianship on songs like "Love Move," a doo-wop ballad I imagine Meghan Trainor would take a liking to, caught my attention. You could tell they were all having a good time on stage with the guitarist all smiles ripping solos and energizing the sea of fan girls and boys in the packed room.
KINGQUEEN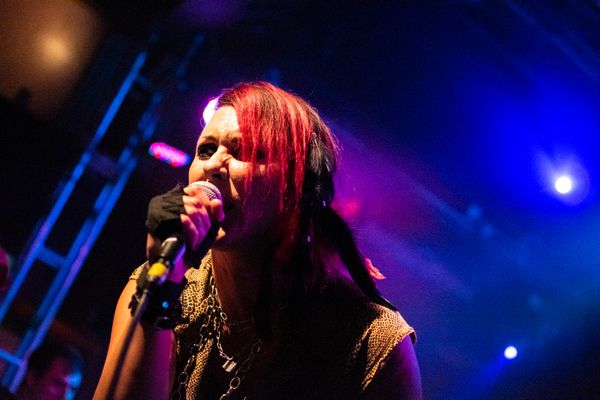 80s inspired pop rock band KingQueen took the stage next, pumping up the crowd with fierce vocal chops and anthemic melodies, bringing to mind the likes of Heart and Pat Benatar. I first saw the band at El Cid a few months back when my friends Brandon Valerino and Cooper Bombadil of local rock outfit Westerner played alongside powerhouse frontwoman Ina. Bombadil was filling in on bass, and had actually learned all their songs that day due to some sort of emergency with a band member, and he did a commendable, killer job! Nonetheless, it was great to see the band in full force on the big stage with Valerino on keys and their usual lineup doing a fantastic job backing up the force to be reckoned with that is Ina. 
ALICIA BLUE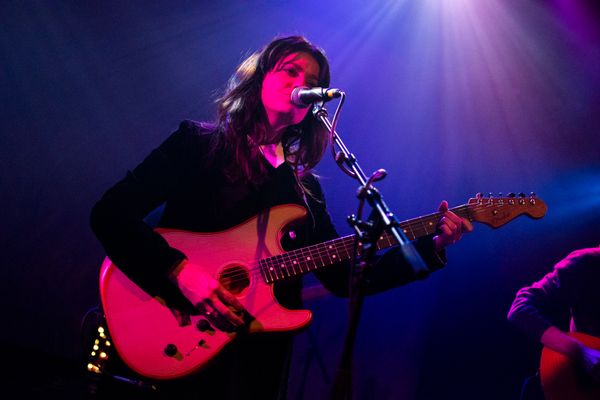 Alicia Blue is an artist I've been hearing about in the LA music scene for quite a while, but never seen perform, so I was excited to check out the folk rock songstress live. Leading the audience on a storytelling journey, Blue enchanted us with her poetic lyrics, craftful arrangements, and sweet melodies. I was particularly drawn to a song she said was co-written with Grammy Award-winning duo The Civil Wars. Commencing with a kick drum and haunting harmonies, the room stood still as Blue sang her heart out and mesmerized us all. 
TRACE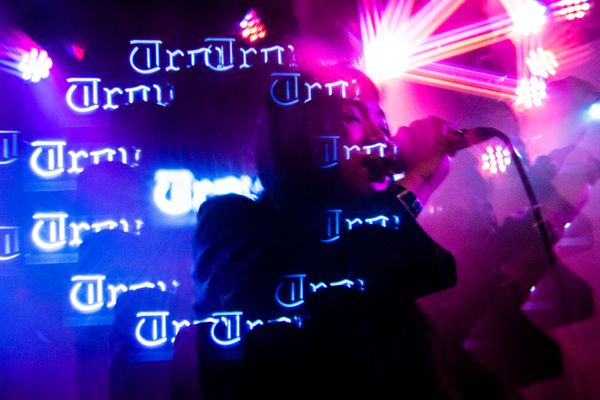 TRACE delivered an intimate performance to a packed house, chanting her name as they awaited her entrance. Bringing some west-coast cool to the stage with her dreamy pop and R&B songs, her smooth vocals swayed over ethereal guitars and modern electronic elements with sultry, subtle hooks that reminded me of the reason I fell in love with Lana del Rey's music. TRACE had me intrigued; I've been digging through her catalogue ever since and it's no wonder she's racked up over 45 million streams with songs like "Low" and "Honey." 
JAX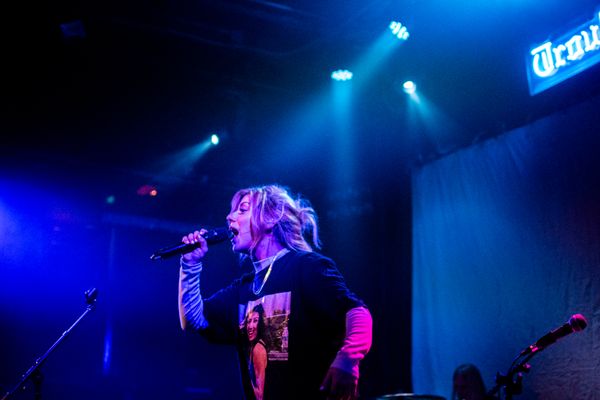 Jax packed a punch with her charismatic pop punk and parody songs, taking moments between to give fans a little inspiration and tell the stories behind the tracks. The New Jersey raised songwriter swooned us with her band and stripped down solo on the keys. She was quite the entertainer and I came to learn about her TikTok stardom that has earned her millions of follows and high-profile appearances on The Ellen DeGeneres Show, Access Hollywood and more.
---
Disclaimer! We recently discovered Kat Cunning and their insatiable dance pop banger "Boys." I was looking forward to seeing them, but was unable to catch their performance, so I'll be looking out for their next shows...
---
Thank you Fan Girl Cafe, Betsy and Cynthia Martinez for empowering us with a fantastic night of female+ artists! 
Want to donate or learn more about Fan Girl Cafe's mission? Follow them on IG and check out the link below:
Follow @fangirlcafeweho on IG!
https://ifundwomen.com/projects/fan-girl-cafe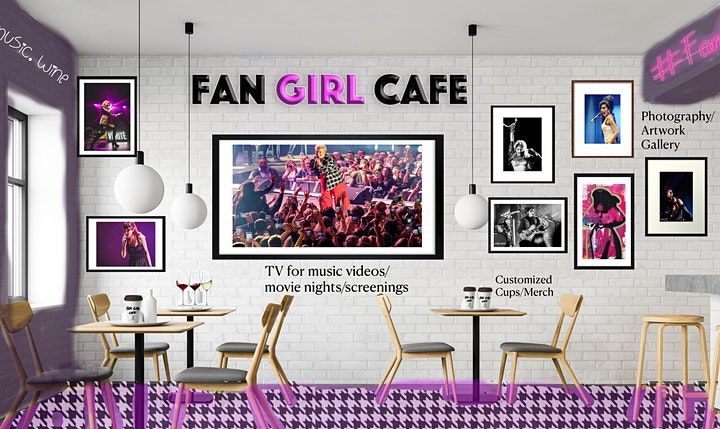 All live music photos by Coconut Spaceship.