By Jeanna Fournier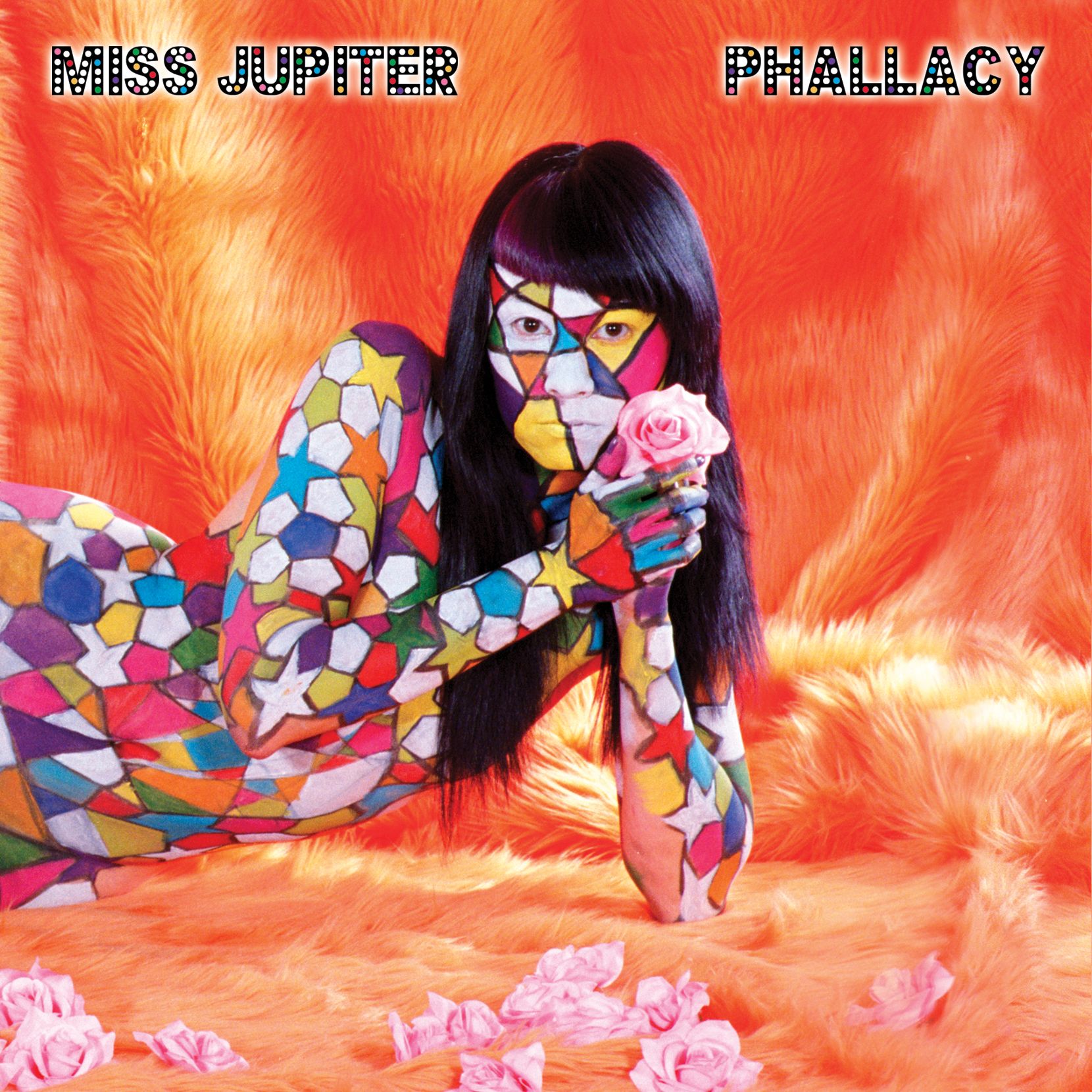 Michelle Rose is the local legend behind Echo Park-based cosmic rock goddess Miss Jupiter. A musician, artist, designer and local business owner, Rose fully embodies the ethos and aesthetic of Miss Jupiter when she's both on and off stage. Whether she's roller skating topless on the streets of Manhattan, or making music that revels in rebellion and freedom of expression, Miss Jupiter bares it all with art that is unafraid and unapologetic. Broadcasting the absurdity and revealing the naked truth, she has a sound and style that provokes the mind and stirs the senses.  
On the cover of her new album Phallacy, Miss Jupiter is painted head to toe with a psychedelic and colorful, star-tinged geometric pattern, complete with a phallic reference (which she explains later on in our interview). The 12-track album is a rock 'n' roll odyssey with a touch of space age fantasy and lyrical themes that expose the fallacies of modern society.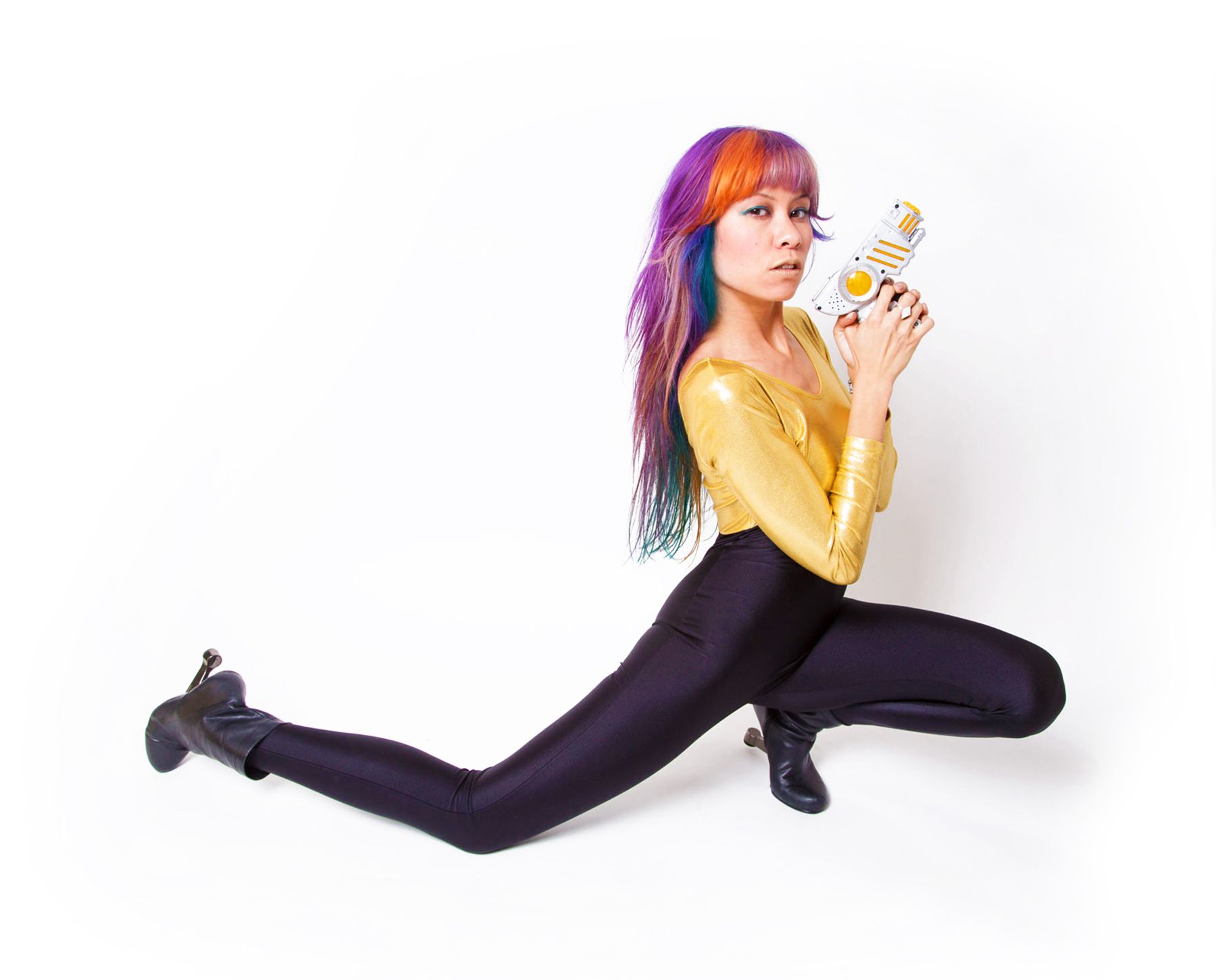 Photo by Don Q Hannah
Rose is originally from Chicago and attended fashion school in the city, where she honed her skills to craft unique handmade pieces and curate wild finds for her Echo Park-based boutique, Spacedust. She's been in LA for about 15 years now and opened the shop almost 8 years ago in 2014. I've had the pleasure of getting to know Rose over the past year after having seen Miss Jupiter perform several times at venues like the Moroccan Lounge, Bootleg Theatre and even her own shop for Echo Park Rising. It was a performance at Coconut Spaceship's inaugural Lunar Bloom festival last November that truly blew me away with her otherworldly performance art.  
On a warm autumn evening approaching the end of a long day, the audience was transported under the spell of Miss Jupiter in the most magical setting. There was an immediate mysticism in the air as the band took the stage in the intimate room at Oracle Tavern; a colorful jellyfish painting on the wall illuminated in the light appeared as if it were floating in the ocean, amidst hanging plants and a godly framed Yoda watching over us all. Seeing Miss Jupiter perform was how I imagined it would feel to witness innovators like Peter Gabriel dazzling in theatrical costumes with Genesis, or David Bowie with the glam rock fits of '70s Ziggy Stardust.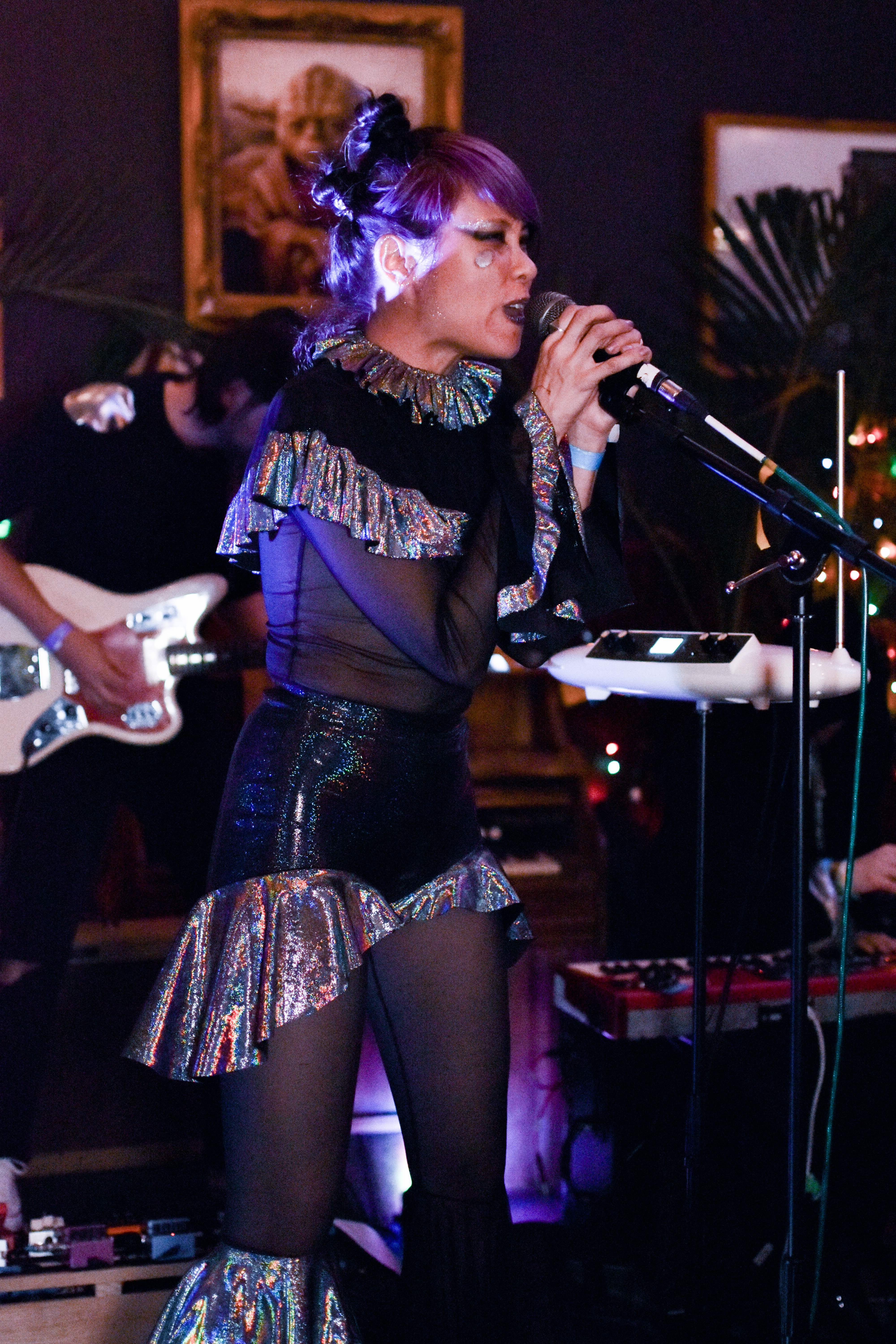 Miss Jupiter at Lunar Bloom
Lunar Bloom was a celebration of rebirth, a re-emergence of live music after two years in the dark with so many beloved local venues shut down. Miss Jupiter manifested the spirit of Lunar Bloom, enchanting the audience in a metallic ensemble she custom-designed for the festival, complete with crescent moon and flower nippies. In a social media post, she explained her outfit was "shaping up to be something like…psychedelic love child of Harley Quinn & Pris performs with ABBA in outer space."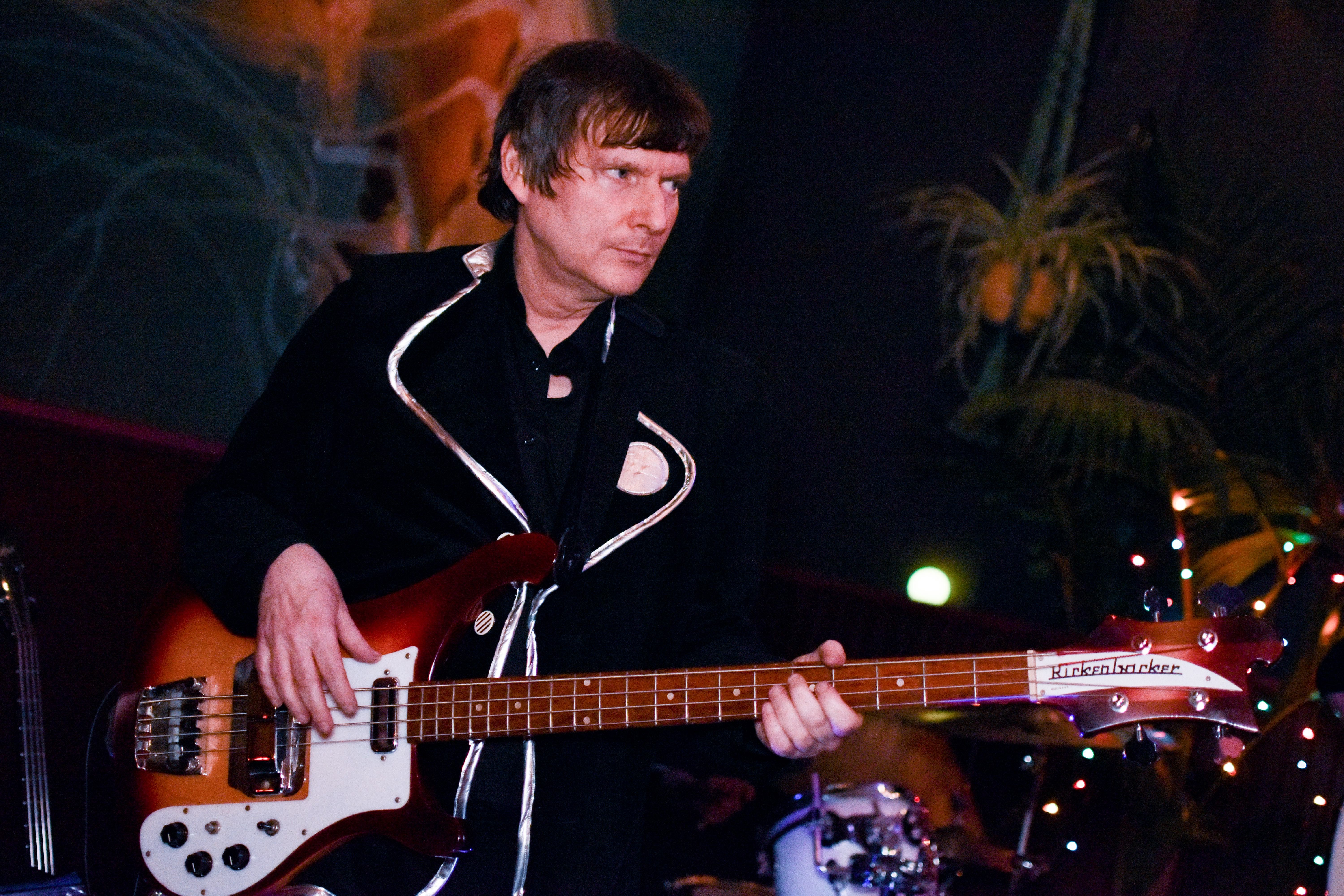 Scott Europa at Lunar Bloom
Miss Jupiter's band also wears her custom designs on stage, and each of her bandmates have taken a last name from the moons of Jupiter. Bass player Scott Europa sported a gorgeous black velvet jacket with metallic lining, while effortlessly grooving on a sunburst Rickenbacker. Börnabin "Bobby" Callisto was draped in a haunting black cloak with only his fingers visible, scaling the keys with vibe and precision. Sean Io held down the rhythm behind a pair of white specs and duo-tone trousers. Their outfits were the perfect complement to Miss Jupiter channeling the outer limits with a Moog theremin, waving her hand to the sci-fi sounds as if she were receiving transmissions from another galaxy.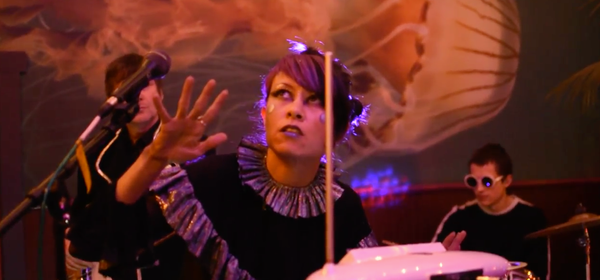 Miss Jupiter at Lunar Bloom
The new album Phallacy is just as much a rock 'n' roll space odyssey as are her shows, from the '60s doo-wop vocals on "The La La Song" to the '70s high-octane guitars, on to the ethereal drone of "Home of the Strange." The opening track "Modern Revelry (I Won't Hide)" sounds like a celebration of stepping out of the shadows cast by the powers that be, with fuzzy guitars behind Miss Jupiter's vocal prowess, complete with a rollicking piano that rounds off this classic inspired and poignant rock 'n' roll track, concluding with some sweet psychedelic synthesizer tones.    
The following track "Pizza For Breakfast" immediately caught my attention with a Pink Floyd-like brooding intro soon juxtaposed by the wonderfully absurd lyrics, social commentary at its finest. Playful in its approach, but quite serious in its message, the song highlights where we've arrived as a society in terms of our food nourishment and consumption. "Pesticides for breakfast…hormones for lunch, GMOs for dinner…". Pizza for a regular breakfast may not seem so far fetched after all. "I can't eat anything" she exclaims in the song, while I ate up the track and wanted seconds.   
"The La La Song" takes another step back in time. With a cheerful chorus melody and harmonies that bring to mind '60s girl groups like the Angels, the music pays a most respectful homage to that sound, which is beautifully executed in both the production and performance. Classic cinematic strings and bells are a nice touch to the nostalgic arrangement. Who knew a song about a misogynistic predator could sound so delightful? We're humming with our heads hung.    
The album takes a turn with "Home Of The Strange," which I would say is the most modern track on the album. Miss Jupiter's ethereal, soaring vocals take center stage on this space ballad, with dreamy synth pads and droney cathedral organs. Reminiscent of an emotive Chrissie Hynde vocal performance, I could also imagine this on a Beach House album. It's a standout modern minimalist track that keeps you floating in Miss Jupiter's buoyant atmosphere.  
"To Stay in this World" is another notable track that brings back some Floyd vibes with its jazzy saxophones, performed by James Geraci. With lyrics, "I don't want to fight to stay in this world," perhaps this is a mirror on society's fascination with interplanetary life, or on the difficulty of existing on our own planet and everything that comes with it. When we're coping with society's constructs, maybe it's easier to imagine that it must be better somewhere else…perhaps in another galaxy. The trippy outro makes it easy to envision such things.   
The title track "Phallacy" is carried by a spacey synthesizer which serves as the perfect bed for Miss Jupiter's commanding vocals, as she tackles the controversial topic of the modern ritual of circumcision. She explains her views on this in relation to the album title in our interview.  
"Human Club" is the penultimate track with a message that we are one as humans, and not limited to society's labels, whether gender, race, or class. It's an important message that is as timely as it is classic. Miss Jupiter reminds and reassures listeners, "You're always a member of the human club, even if you fall, we are there to catch you."   
Miss Jupiter's Phallacy is a sonic odyssey with thought-provoking themes that explore the outer limits of rock 'n' roll and call out the modern fallacies programmed into society. The album was produced by Michelle Rose, co-produced by Neil Soiland and Alexx Magic, and engineered and mixed by Scott Barber at the Barbershop Recording Studio in Los Angeles. It was mastered by John Greenham at Clearlight Mastering. The cover features photography by Parker Day and body art by Ally McGillicuddy and Mimi Meyer.  
We asked Miss Jupiter to answer a few questions about the music and intentions behind this masterful work of art... 
Photo by Parker Day
What is the inspiration behind the album title and cover? 
The title track "Phallacy" is about the travesty of infant circumcision, a practice only widespread in a few parts of the world – mainly the United States and the Middle East.  I am working on more resources to spread the truth about the damage that this surgery, forced upon infants in their most vulnerable and defenseless state, causes to both people with penises and people without.  This is an issue that has enraged me since I found out about it, and what's most striking about this practice is that one might not think that the patriarchy would harm its own – but it does.  I thought it quite poignant that this album came out the same day that Roe v. Wade was overturned, because while I don't want to take away from that cause, I desperately want to add to it.  We are fighting for women's bodily autonomy, but barely anyone is speaking up for the approximately 60% of infant boys who still endure this cruel mutilation without consent; and misinformation about its supposed purpose, and the downplaying of its effects, are still rampant.   
I consider this to be one of the biggest falsehoods in American society, and combined the words Phallus with Fallacy to express the concept.  The rest of the album contains many more observations of things that are wrong, from the food industry, to the consumption of demoralizing media drivel, cancel culture, war, and more – and how we are brainwashed to accept (and even celebrate) so many fallacies.   
It's only visible on the back cover of physical copies of the album (CDs and the future vinyl records), but for the cover photo, I donned a flaccid packer dildo with foreskin to represent the phantom penis I possess that allows me the empathy to fight for the abolishment of infant circumcision.  And because this practice is rooted in religion and its puritanical attempts to diminish the natural pleasure involved in sexuality and creating life, I chose to be painted as a stained glass window.  In a way, my penis is breaking through the façade of holiness that I wore on my skin.  Because there is truly nothing more sacred or holy than creativity, which is sexuality, and it should never be disturbed. 
Who are some artists that have influenced your sound and style?  
It's hard to say what influences might come out in my music or appearance, having never consciously attempted to espouse any particular artists.  But I can say that Electric Light Orchestra is my all-time favorite, and artists like Frank Zappa, Poly Styrene/X-Ray Spex, Jim Morrison/The Doors, Pink Floyd, Love, and Jefferson Airplane are some of my longtime heroes for their innovative styles and unapologetic outspokenness, and are a few that seem to have come out quite a bit on this album.   
Besides these, I remember in particular that I had had a strong resurgent David Bowie phase right before he died; a major immersion into Earth, Wind and Fire before Maurice White passed, and a deeper exploration of Prince than ever before in the months leading up to his (most untimely) demise.  They all left this planet in 2016, shortly after I wrote "Modern Revelry (I Won't Hide)", and the same year I wrote "Fear & Fame" and "ISIS 2121".  I think it would be safe to say that all of them have also influenced my style.  But the vast breadth of my musical taste and human experiences all bleed into the music I create.  And of course 2016 was a pivotal year in political bullshit, when a lot of us were utterly confused and pissed off.  I needed to rant! 
I think a lot of what comes to mind when I'm asked about my influences, and what people hear most in my music is a lot of the more well-known classic artists that I discovered in my formative years.  But I'm also very immersed in our local Los Angeles music community, and various contemporaries who inspire me include Fancy Space People, Diva & The Pearly Gates, Amo Amo, Polartropica, Little Galaxies, and Secret Stare.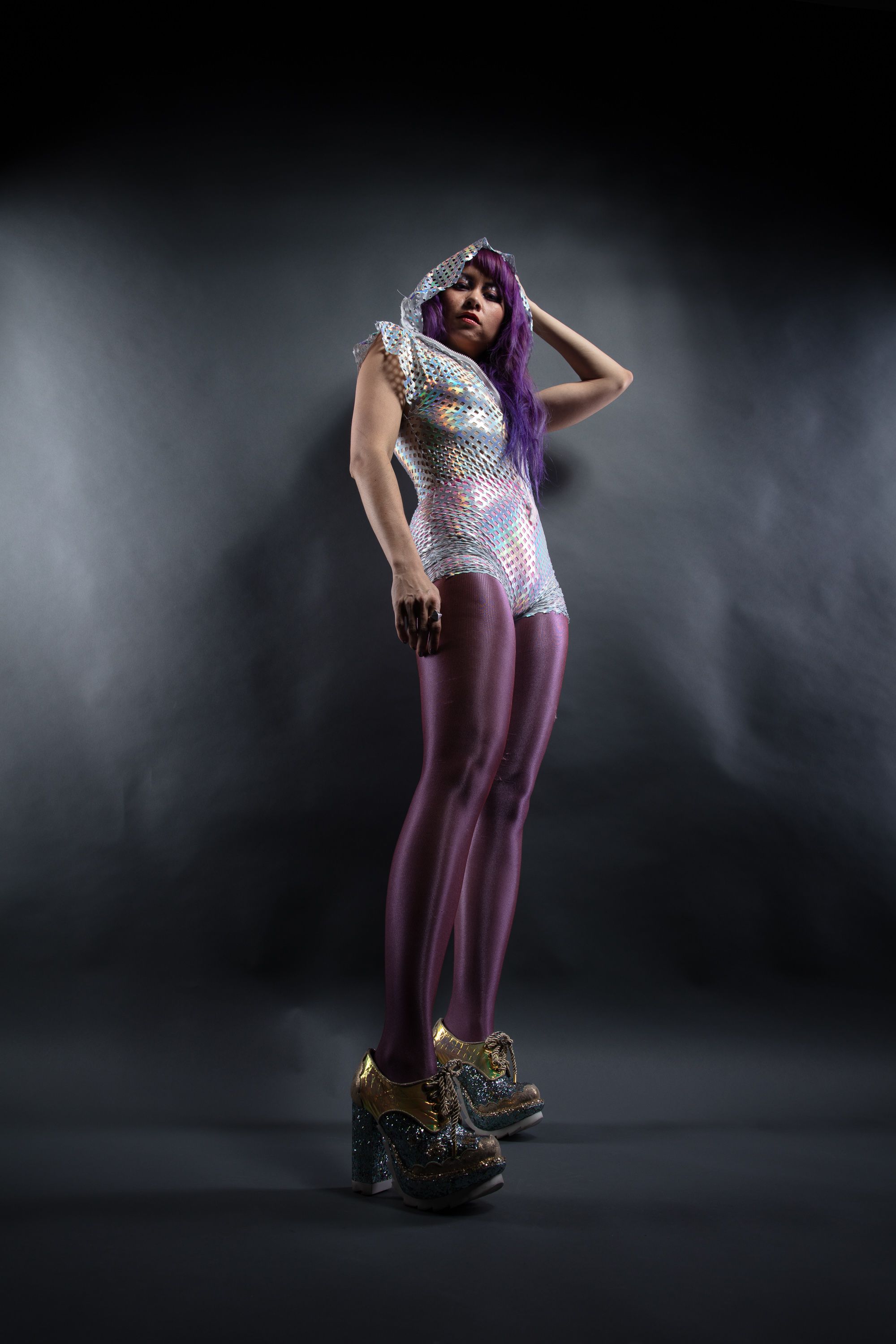 Photo by Don Q Hannah
Can you tell us about your custom designs? That was quite an outfit Jacob was wearing at Harvard and Stone! 
Emerging from pandemic lockdown and playing our first show back in September 2021 gave me the impetus to dedicate more thought and time into our stage costumes than ever before.  While I'd always created looks for the band and myself, I saw this resurrection from dormancy as an exciting opportunity to take the visual aspect of performance even further.  
For my three longest-running bandmates who I'd known for a while (Scott on bass, Sean on drums, and Bobby on keys), I challenged myself to create a group of cohesive looks containing a through-line of elements – the colors black and silver, circular shapes representing the moons of Jupiter, and lines alluding to the tendrils of mycelia – while also honoring their unique individual styles.  I was familiar with each of them enough to guess at what they'd like to wear and surprise them with their garments, and it gave me tremendous delight when they did indeed align with & enjoy what I'd created!   
For Jacob Adrastea, our newest member, I had an idea of what to make for them, but without much time before our recent first show together, I wanted to avoid the potential for do-overs and give them a chance to have some input on the piece, so by contrast, they knew what to expect.  Though my initial design instincts didn't need much modification, as I knew perhaps intuitively that they would love to wear a dress on stage, and would appreciate a somewhat gothic-romantic style.   
Clothing has such a potent capacity to coax out our most raw personae.  The most important thing in creating costumes for my band members is for them to feel not only comfortable on stage, but empowered!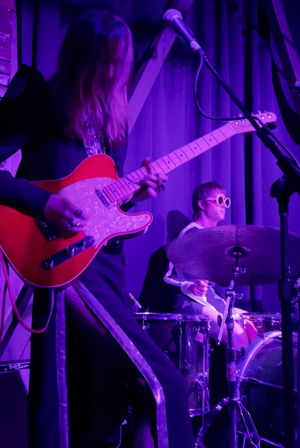 Jacob Adrastea at Harvard and Stone
What is the meaning behind the "Pizza for Breakfast" lyrics?  
"Pizza For Breakfast" is about my increasing paranoia about what I'm eating.  Well, and actually what the majority of people in the US are eating.  These days it seems normal to eat such things as pizza, burgers, and tacos with such frequency that it's almost unsurprising that they could even comprise one's breakfast.  But most of what we consume is filled with toxic chemicals (why is organic produce a specialty, when it should be the norm?); disease-inducing additives & synthetics; hormones & even anxiety passed down from animals kept cruelly in cages; etc.   
Even if it doesn't make me physically ill, it makes me sick at the way nourishment has become an industry.  Food, as well as other essentials for survival such as shelter & water, should never be allowed to be profitable.  Morals and accurate science are too often abandoned for financial gain.  In my own attempts to find food that isn't questionably safe, I have experienced a lot of frustration in wondering whether I can eat anything at all. It seems almost everything is tainted with corruption these days.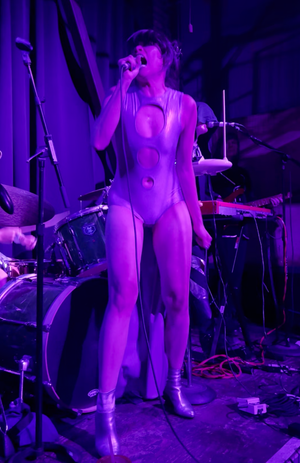 Miss Jupiter at Harvard and Stone
---
Miss Jupiter's new album Phallacy is available for purchase and streaming everywhere at the links below. Take a listen and follow her to stay tuned on upcoming shows and releases… 
https://www.instagram.com/_missjupiter_