By Jeanna Fournier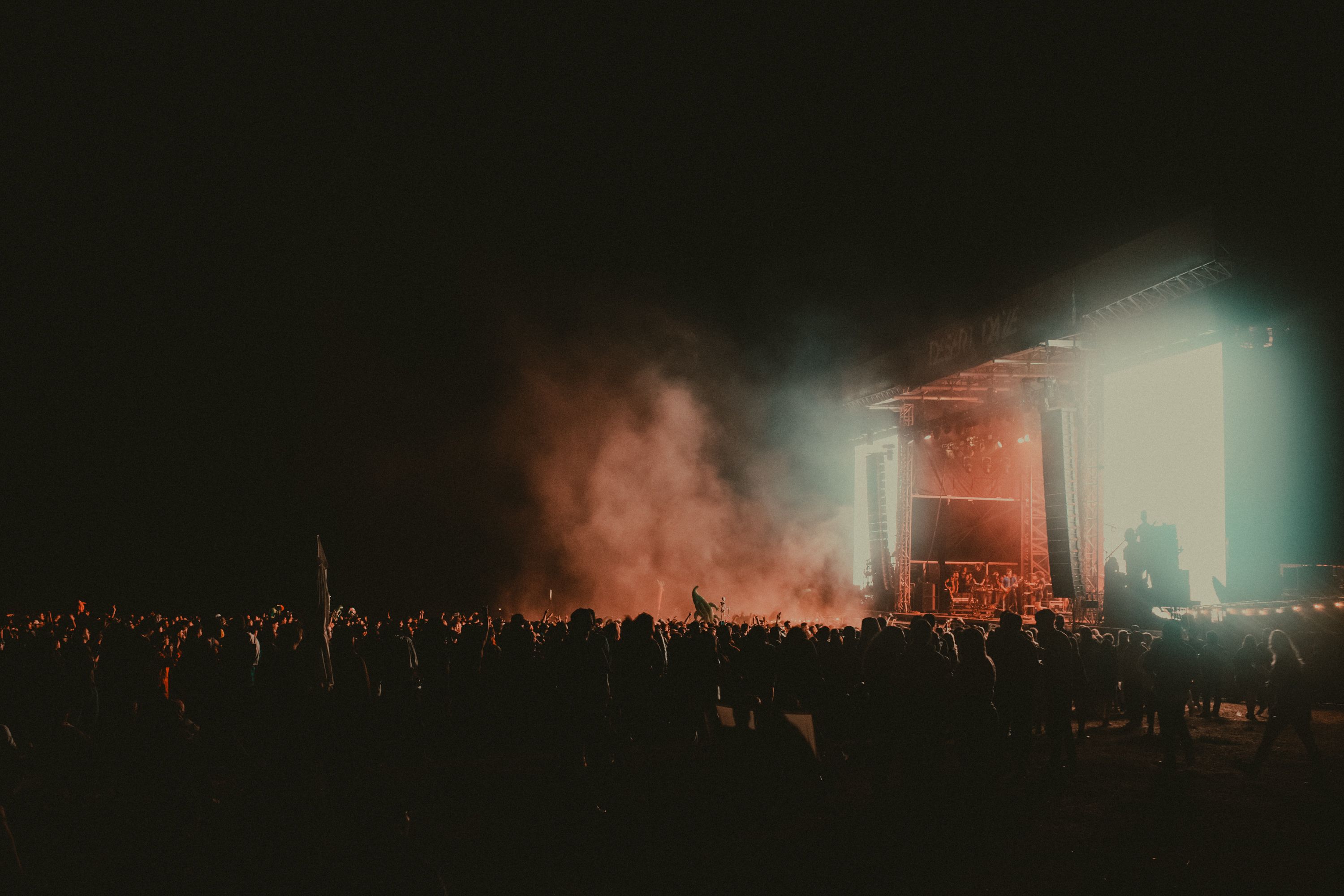 Photo by Nikki Neumann
Desert Daze has become a staple in Southern California's psychedelic music scene over the past decade, and my first dose of the inter-dimensional festival last weekend served to be a delicious concoction of trippy ear candy and mind-bending acts that altered my previously defined vision of "psych" music. From the shredding King Gizzard set, to the thumping bass lines of new-to-us Belgian electronic duo Charlotte Adigéry & Bolis Pupul, to the wavy synthesizers blazing the beach from post-punk femmes Automatic — all of the acts provided a taste of the eclectic, psych underground that felt fresh on the festival circuit. Not to mention a "Meat The Beetles" bug tasting, kaleidoscopic art installations, and the surreal view of Lake Perris on the desert shore — it was a weekend I'll never forget. 
I ventured to the festival with my companion, galactic dream pop artist Polartropica, armed with festival supplies and our little mushroom hats courtesy of Wicked Hippie. Surrounded by thousands of music aficionados on the sand, I still experienced the intimacy of a home show with good vibes and great friends all around. So I asked local artists who made the trip from La La Land to the desert to join in covering some favorite acts from the fest. Let's start with a couple of my picks, L.A. Witch and Sloppy Jane, who we'll also feature later on in interviews along with heavy-psych rock French band, SLIFT… 
---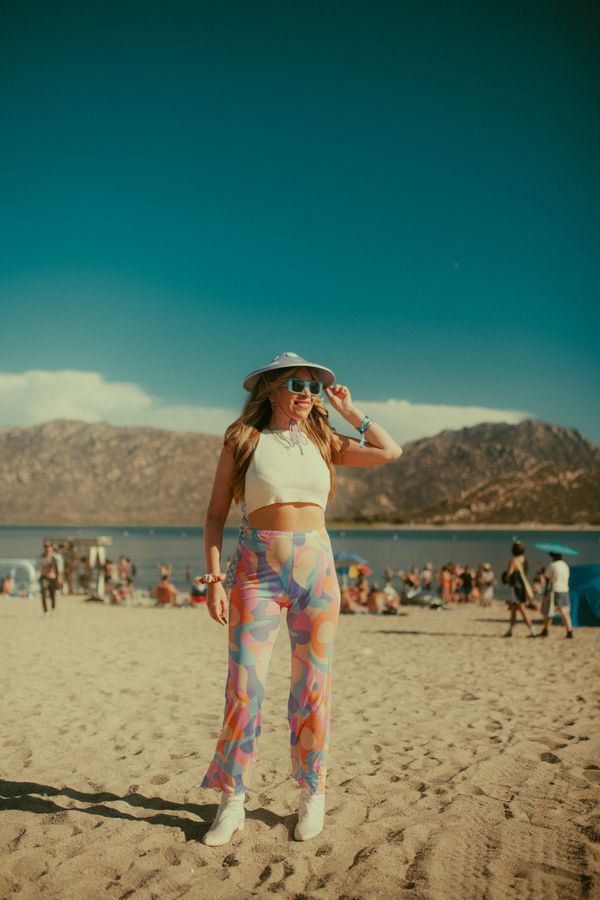 Photo by Nikki Neumann
JEANNA FOURNIER - SINGER + GUITARIST OF LITTLE GALAXIES 
Music Picks: L.A. Witch + Sloppy Jane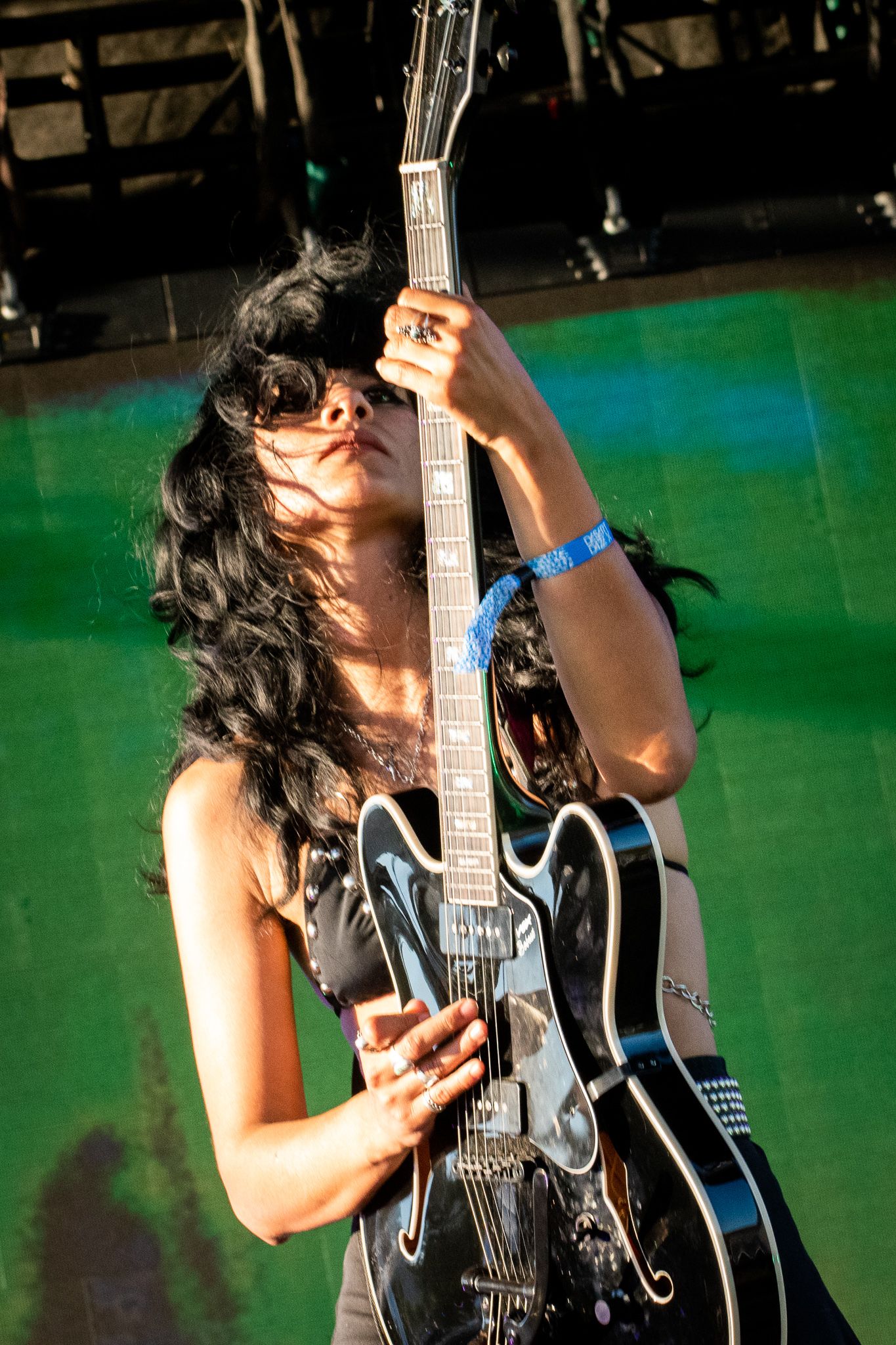 Photo by Jeanna Fournier
L.A. Witch
The rumbling low end and retro vocals akin to a rock n' roll Nancy Sinatra radiated the air just beyond the water on the Beach Stage. With jangly guitars on high-octane, L.A. Witch's set was everything I wanted to hear after blaring their song 'Fire Starter' on repeat since they released the garage rock banger in 2020. They landed in full-force with fierce style in the late afternoon — bass player Irita Pai pulsing rhythms in a pair of red, cat-eye shades and rhinestone mesh flaring in the rays…lead singer Sade Sanchez ripping solos steeped with reverb in a black, studded bikini top — the LA natives melted our eyes and ears in the most wonderful way under the desert sun.
---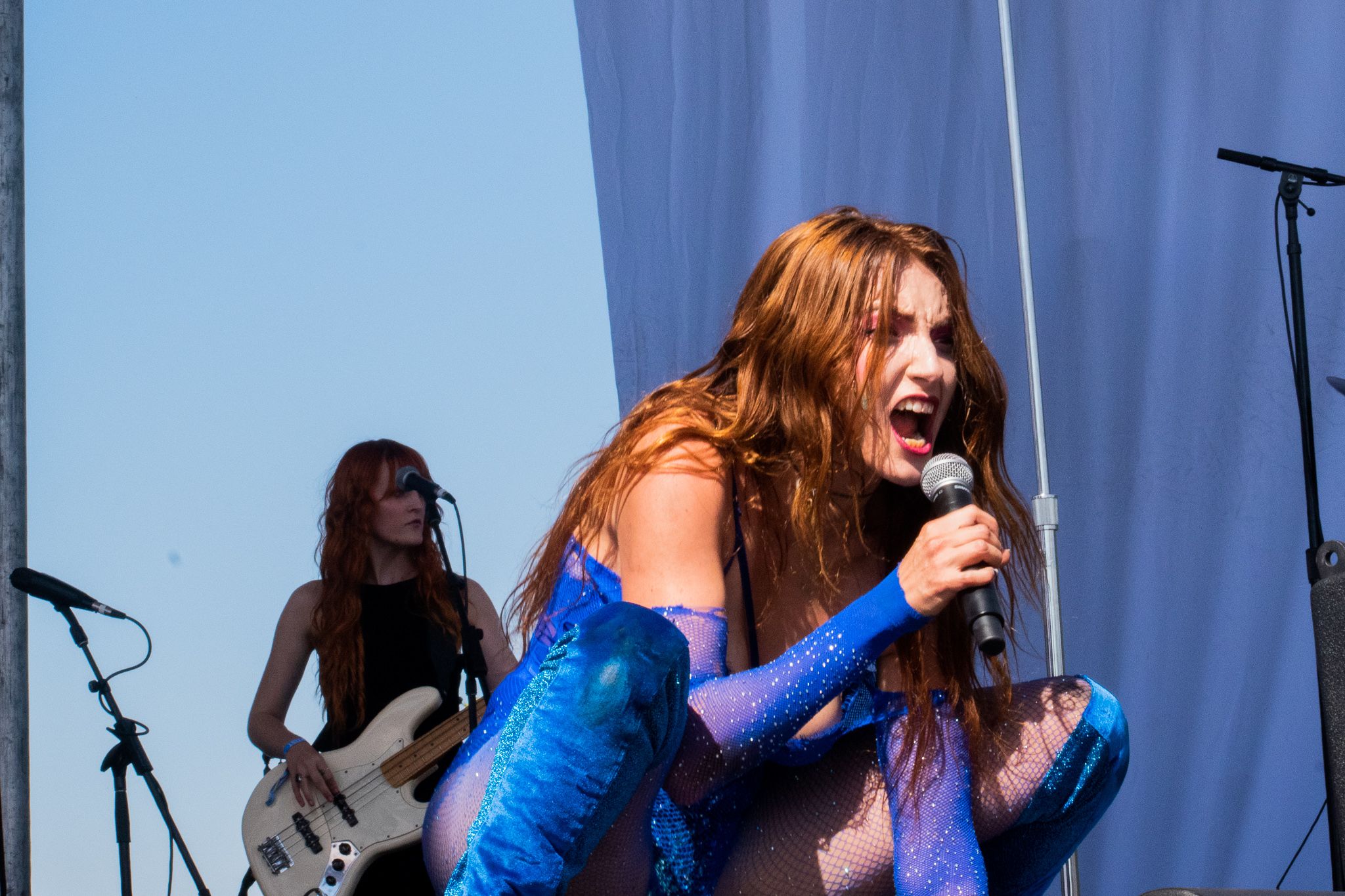 Photo by Jeanna Fournier
SLOPPY JANE  
There's nothing messy about the musical theatrics of Sloppy Jane's punk orchestra. The artist commanded the Block Stage with a set ranging from what she calls "goth Freddie Mercury" to the cinematic stylings of her impeccable band complete with a string section. She courageously climbed atop the bass drum in a pair of shiny blue stiletto boots, joined her band members for a line of kicks, and even conducted, waving her hands in the air with precision and grace. Her matching sparkly blue bodysuit, velvet cape, and dripping eyes were the perfect accessories to her animated performances on scorchers like 'Where's My Wife', when she rolled to the ground, legs floating above the masses. She even ended the set with a New Years countdown with the whole crowd chanting along. The only thing we could have asked for is more. 
---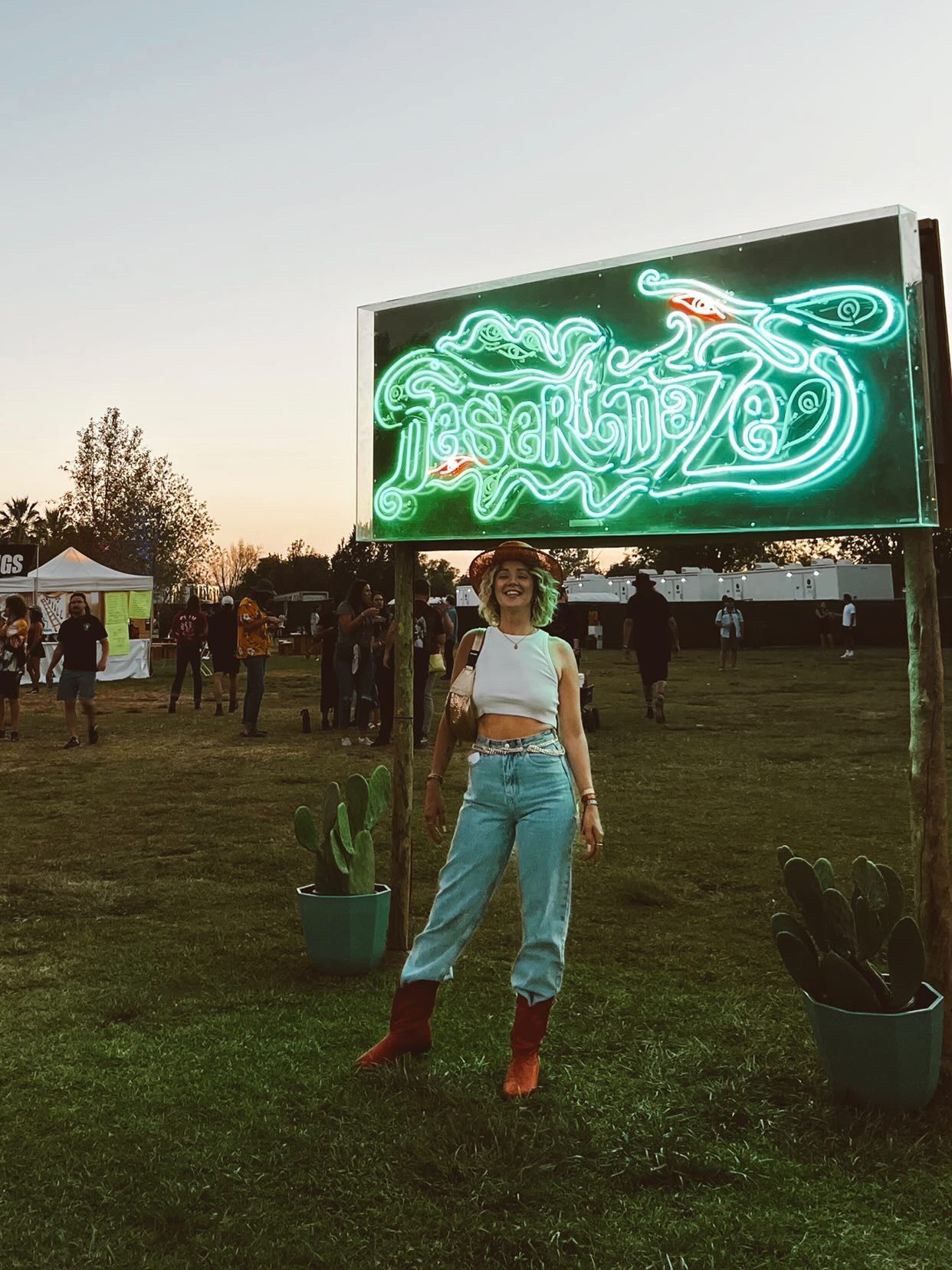 ALI CATRON - Fashion Stylist + Music Aficionado  
Music Pick: Automatic

Photo by Jeanna Fournier
AUTOMATIC
"Several times throughout the weekend Automatic had come up, so I knew I wanted to check them out come Sunday. What the band calls a 'dystopian sci-fi opus' – I found myself bouncing on the beach and kicking up sand dancing to their dark doom pop synths and mechanical beats. Managing to combine the playfulness of '80s New Wave, with monotone vocals that at times felt eerie yet charming. If the apocalypse is brewing, I'm glad these ladies are supplying the soundtrack." - Ali Catron
---

Photo by Jeanna Fournier
POLARTROPICA - DREAM POP ARTIST 
Music Pick: Charlotte Adigéry & Bolis Pupul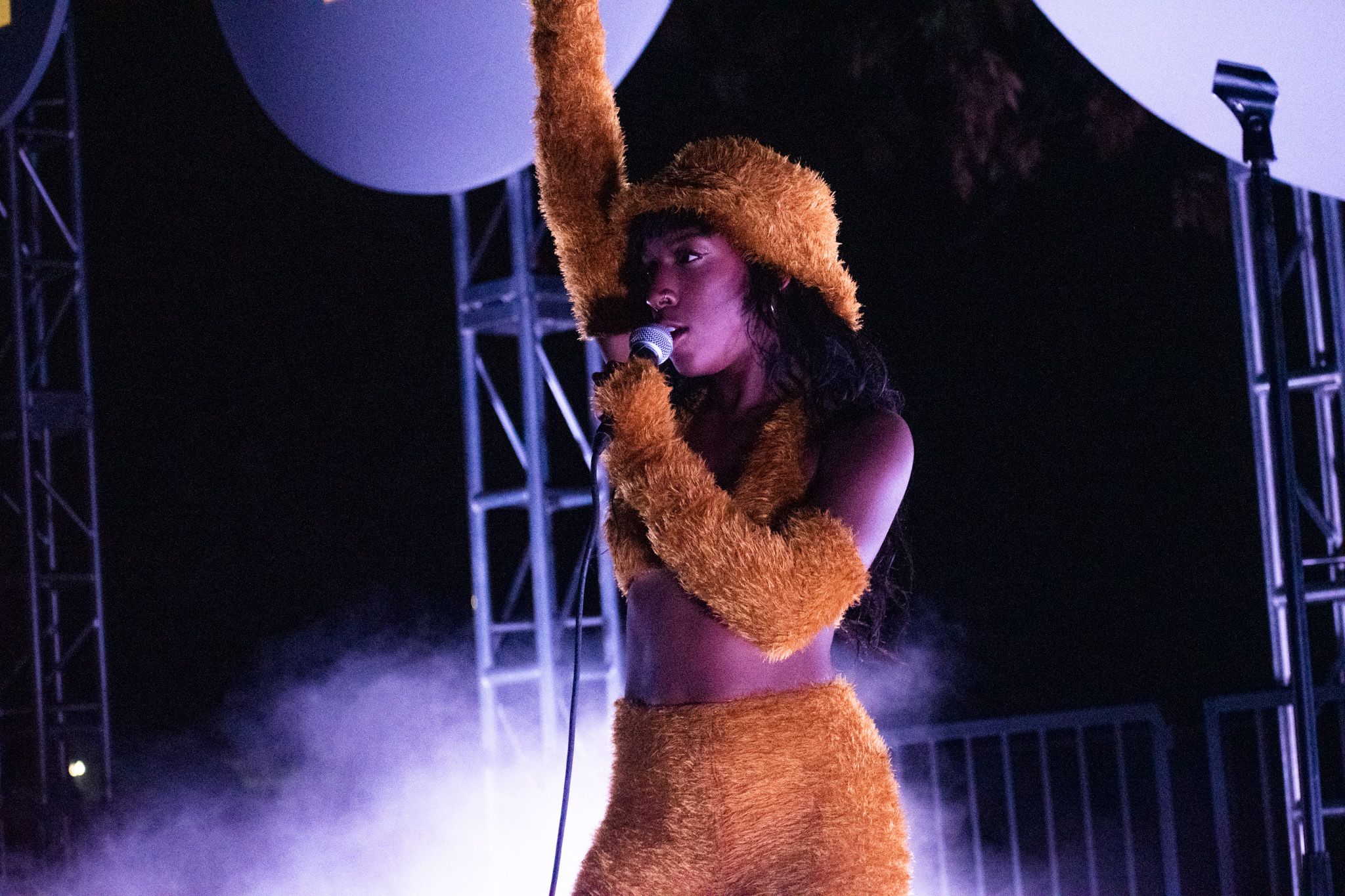 Photo by Jeanna Fournier
Charlotte Adigéry & Bolis Pupul
"Shimmering, pulsating glowing oasis of Charlotte Adigéry & Bolis Pupul's sparkling set post nightfall on day 1 at the Sanctuary stage still resonates hard in my soul. The duo powerfully commanded the stage, and we were completely entranced with the entire crowd following every word and delicious beat. The tracks were intricate and sassy, performed with a playful coolness, intercut with moments of absolute bliss."      
"Charlotte and Bolis' storytelling felt intimate, and in the groovy delicious beats were messages and wisdom… moments like this really help me believe in the humanity and transformative power of art and music – the amazing kind are when the message translates in a way that you can feel in your core, and this set did just that.  Standout surrealist delightful moment was when Charlotte dedicated 'HAHA' to anyone that took mushrooms ~ it encompassed the vibe of the night, and even helped anyone not on mushrooms easily feel the contact high."
"Charlotte and Bolis were also a vision on stage, with fashion on point – Charlotte's fuzzy multiple piece set, complete with hat complimented her vibrant, cheeky dance moves and Bolis' jumpsuit with brightly colored intricate patterning really accentuated his modern-day wizard mastermind persona onstage constructing hot beats behind his sonic workstation."
"Friends always ask who I'm most excited to see at festivals, and I'm always most excited to see something I didn't even think existed that blows my mind in a way that I see the world differently or feel something I haven't felt before - and this set was it for me.  Hands down my favorite of the entire festival and possibly 2022, which I know is saying a lot considering the epic lineup this year."   
"I can't thank Shazila enough for the hot rec, I'll never forget walking up to the oasis-looking Sanctuary stage, tired with my hot vegan nachos in hand, barely able to believe my eyes and ears at the fantastical delight of Charlotte Adigéry & Bolis Pupul with the jovial crowd.  As a musician and lover of music and art with every part of my being, I know I'm not alone in the sentiment that I absolutely cannot wait to see them again! Thank you Desert Daze."  
"While I was jamming out and eating nachos, someone in the crowd came by and was like, 'When I see two mushroom hats I know I'm in the right place, that's where the good music is at.' " - Polartropica
---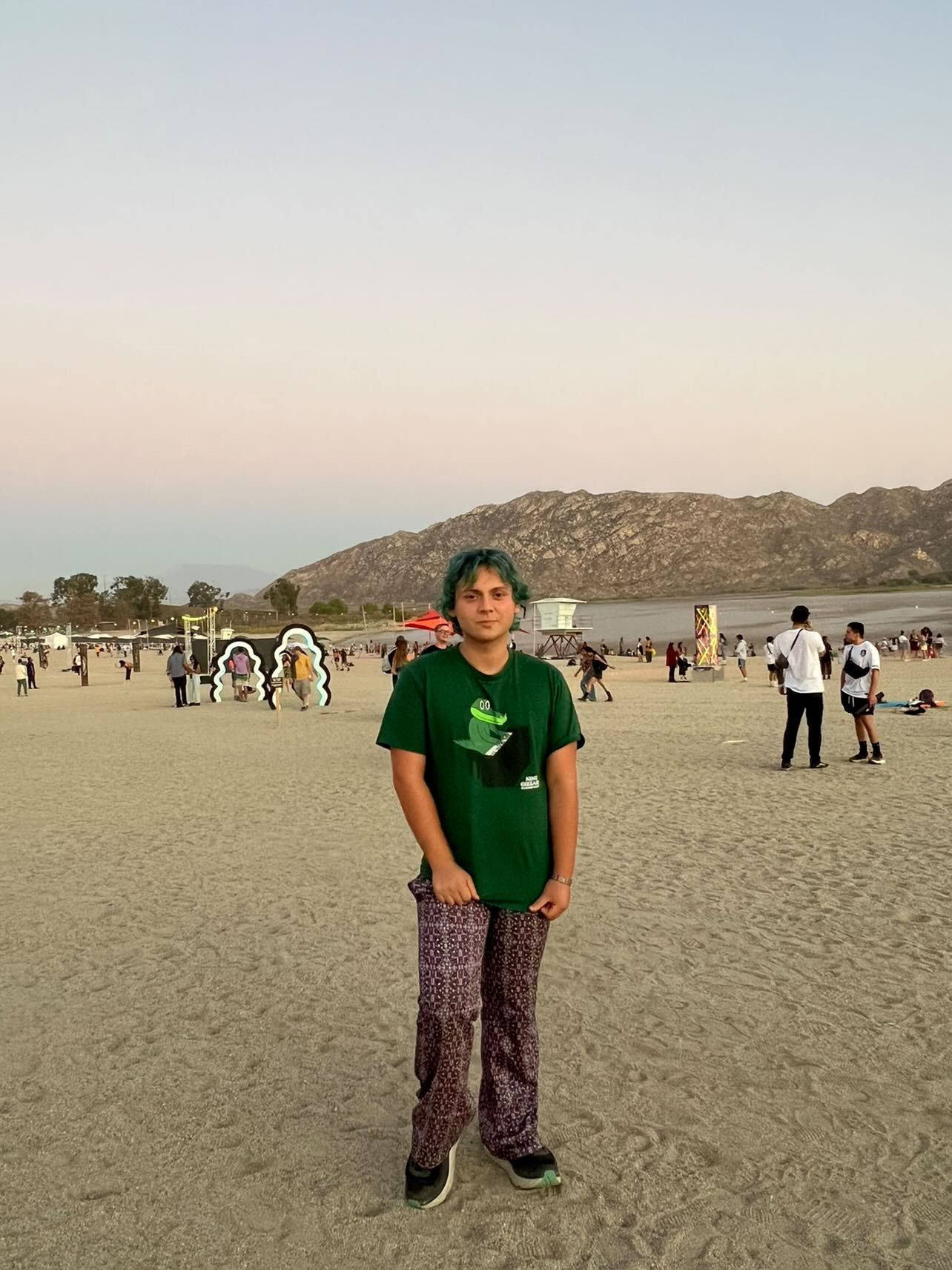 CHRISTIAN GISBORNE - SINGER + GUITARIST OF VELVET STARLINGS 
Music Picks: King Gizzard & The Lizard Wizard + SLIFT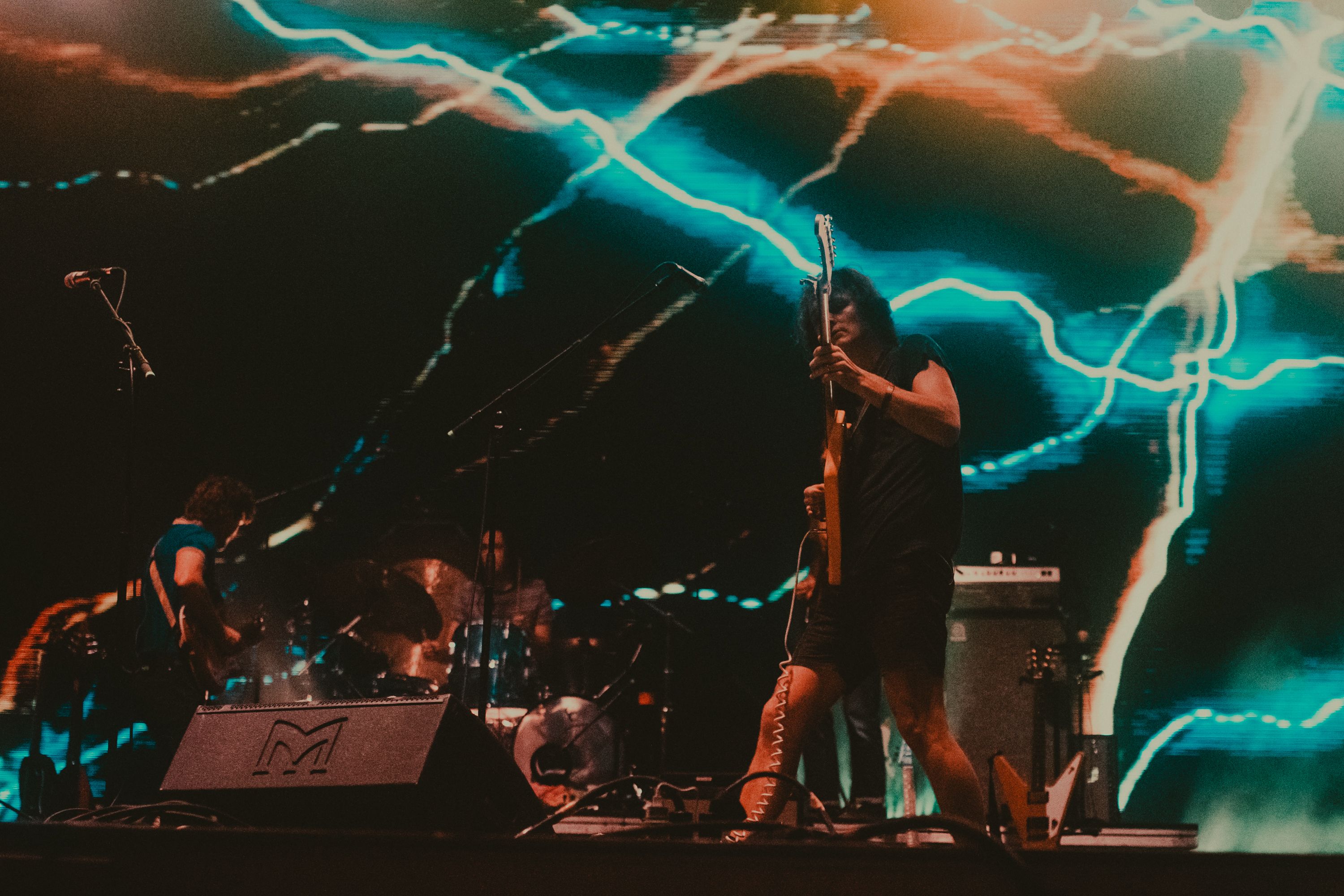 Photo by Nikki Neumann
KING GIZZARD & THE LIZARD WIZARD  
"You'd think the first thing that comes to mind when you picture Desert Daze may not be people trying to dance to a metal riff with a 9/8 time signature, but at a King Gizz show anything is possible! I figured they'd play to their audience and start with some trippy psych rock tunes that Tame Impala fans might dig but Stu and Joey came out holding their thrash guitars and the rest is history."  
"What I think is most impressive is their ability to go from the chill, synthy festival vibes of 'Magenta Mountain' to Infest the Rats Nest's metal closer 'Hell' and have it somehow feel so cohesive in a set. This was my 5th KGLW show this year! And I'm headed to Denver next week to catch them twice for their 3 hour marathon sets. By next week they'll have 3 more albums out. And that's not even me joking. Look it up!" - Christian Gisborne
---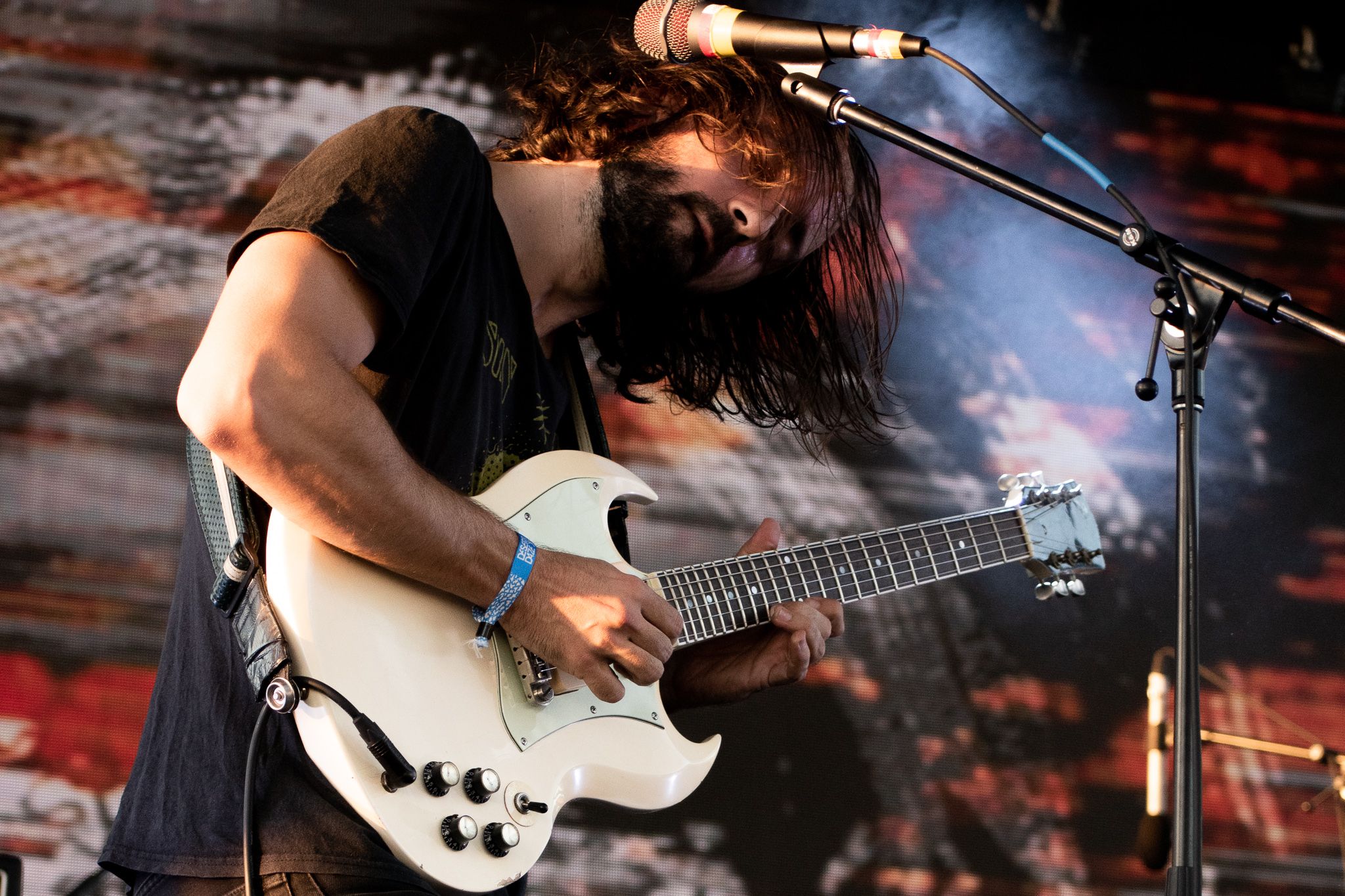 Photo by Jeanna Fournier
SLIFT
"Desert Daze was packed with amazing artists who've graced the stage on past lineups, graduating from early morning slots on small stages to playing night time on the Block and Moon stages. However, French psych power trio SLIFT made not only their Desert Daze debut, but I believe it was their 3rd US show ever!"  
"I was able to catch them at their sold out show at The Echo with Death Valley Girls opening just days before, but their Desert Daze performance was something else. They hit the stage with some trippy, pulsating projections while Jean was setting up and once the drums kicked in for their 2020 psych hit 'Ummon', the entire crowd was going crazy. We'll see them on the lineup in 2023 or 2024 no question." - Christian Gisborne
---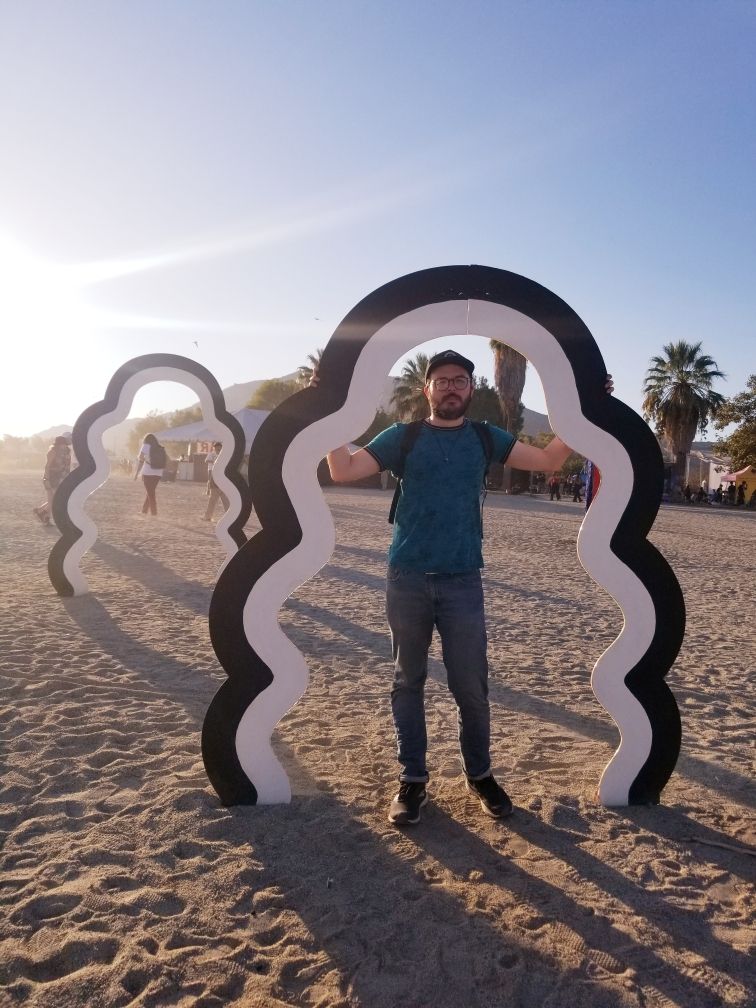 SHANE GRAHAM - DRUMMER OF DREAM PHASES + SUPERGLOOM
Music Pick: Tame Impala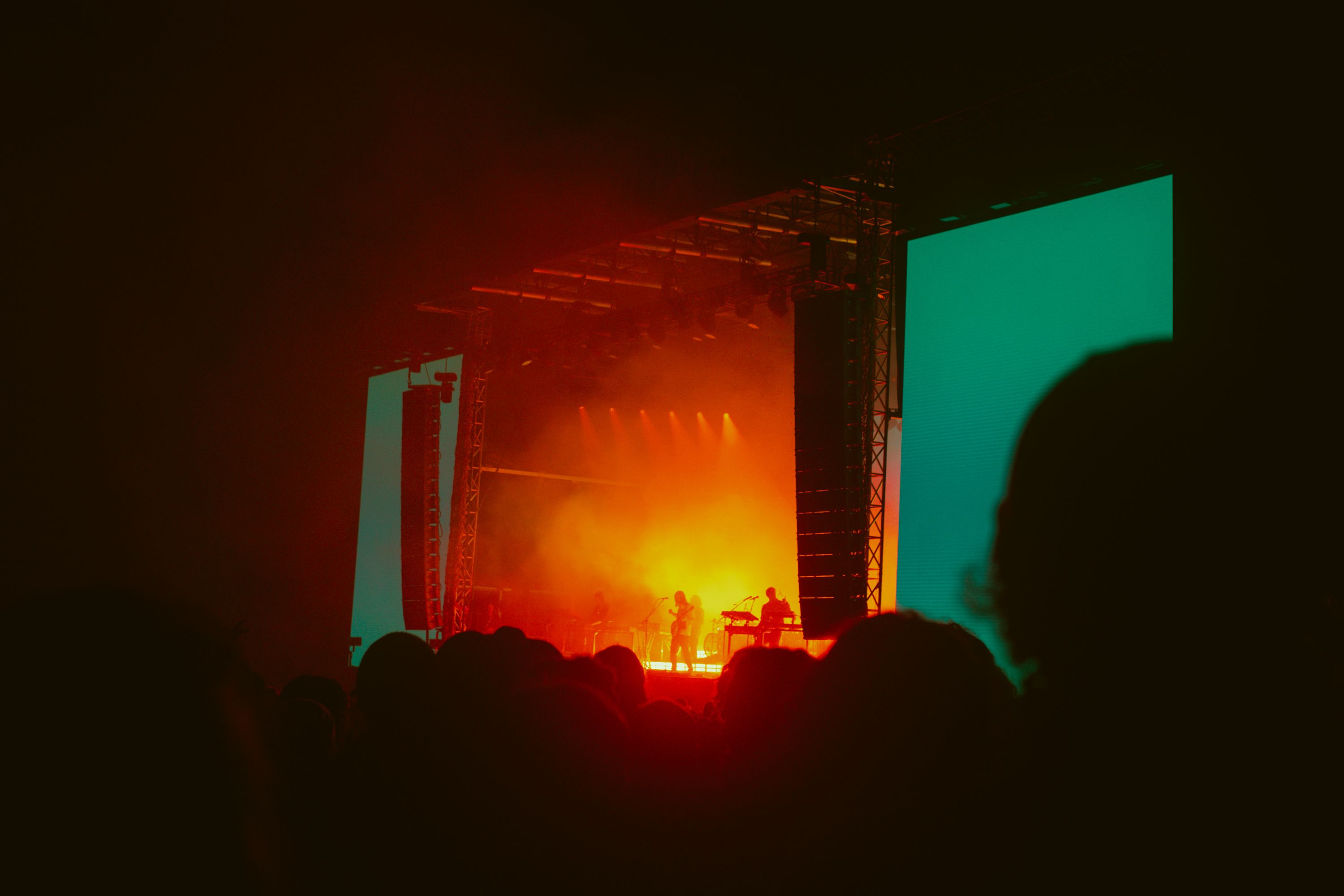 Photo by Nikki Neumann
TAME IMPALA
"Tame Impala returned to Desert Daze for a nostalgic-fueled set performing their sophomore album Lonerism in its entirety. As soon as they kicked into their first song, 'Be Above it', the crowd went crazy with a thunderous roar. It seemed like nearly everyone had their phone out to film and capture each epic moment. The band extended the tune with a dancey flare, reminiscent of their more recent releases. A personal favorite was 'Apocalypse Dreams', which was the third song of the night. They extended the half-time psychedelic section and did an incredible jam that broke down into just the guitar by itself and then was followed by monstrous drum fills and the half-time section a couple more times with a tight ending. When they kicked into 'Elephant', the crowd was dosed with amazing laser lights and went into a frenzy."   
"They performed every song off the album with precision accompanied by amazing visuals. The vocals were a bit more clear than they are on the record, which was a nice change to clearly hear the melodies. The band has some of the best sound and stage production in the industry. Toward the end, Kevin Parker had to stop and take a moment to soak the whole experience in. The last time Tame Impala performed at Desert Daze in 2019, they were shut down after 3 songs due to rain and a thunderstorm. Kevin said he thinks about that day every day. Tame Impala did not disappoint this time around and they by far had the largest crowd of the weekend!" - Shane Graham
---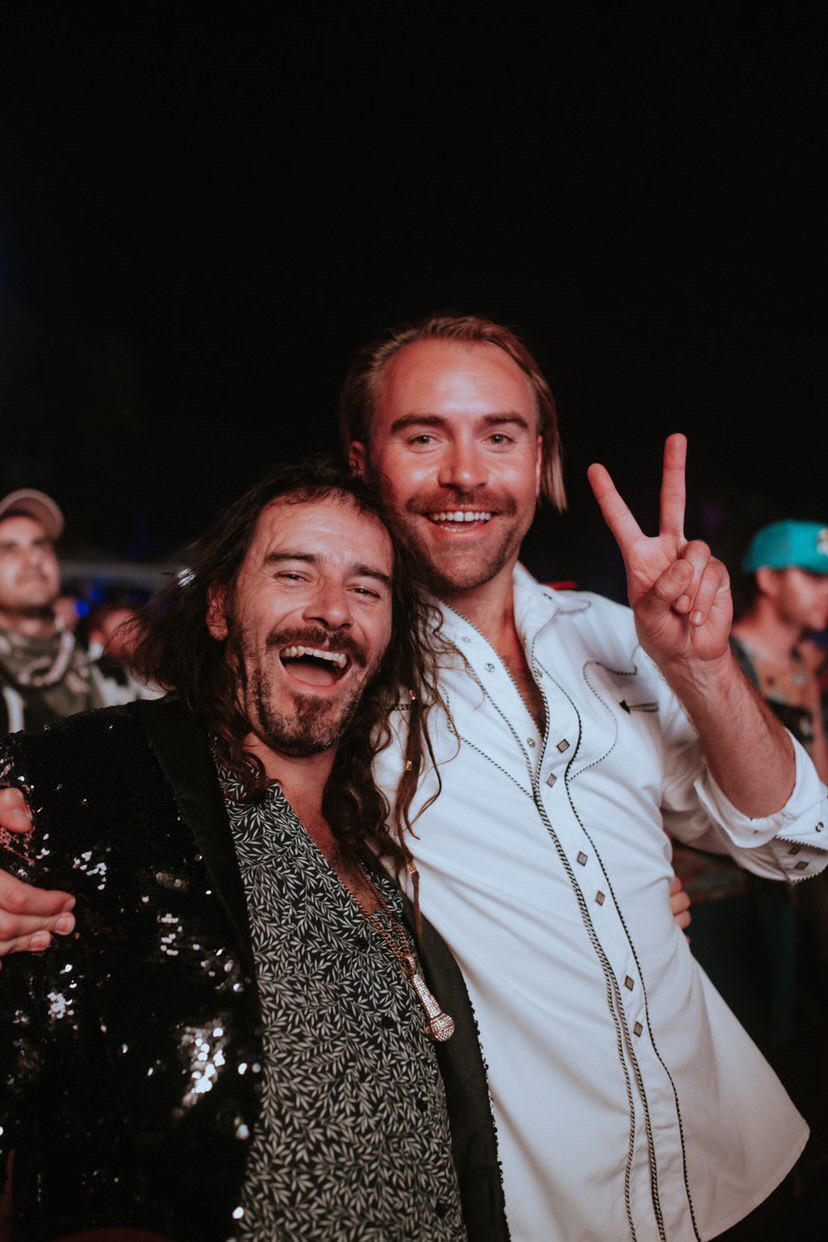 Photo by Nikki Neumann
SEAN FLEMING - SINGER-SONGWRITER
Music Pick: Lady Wray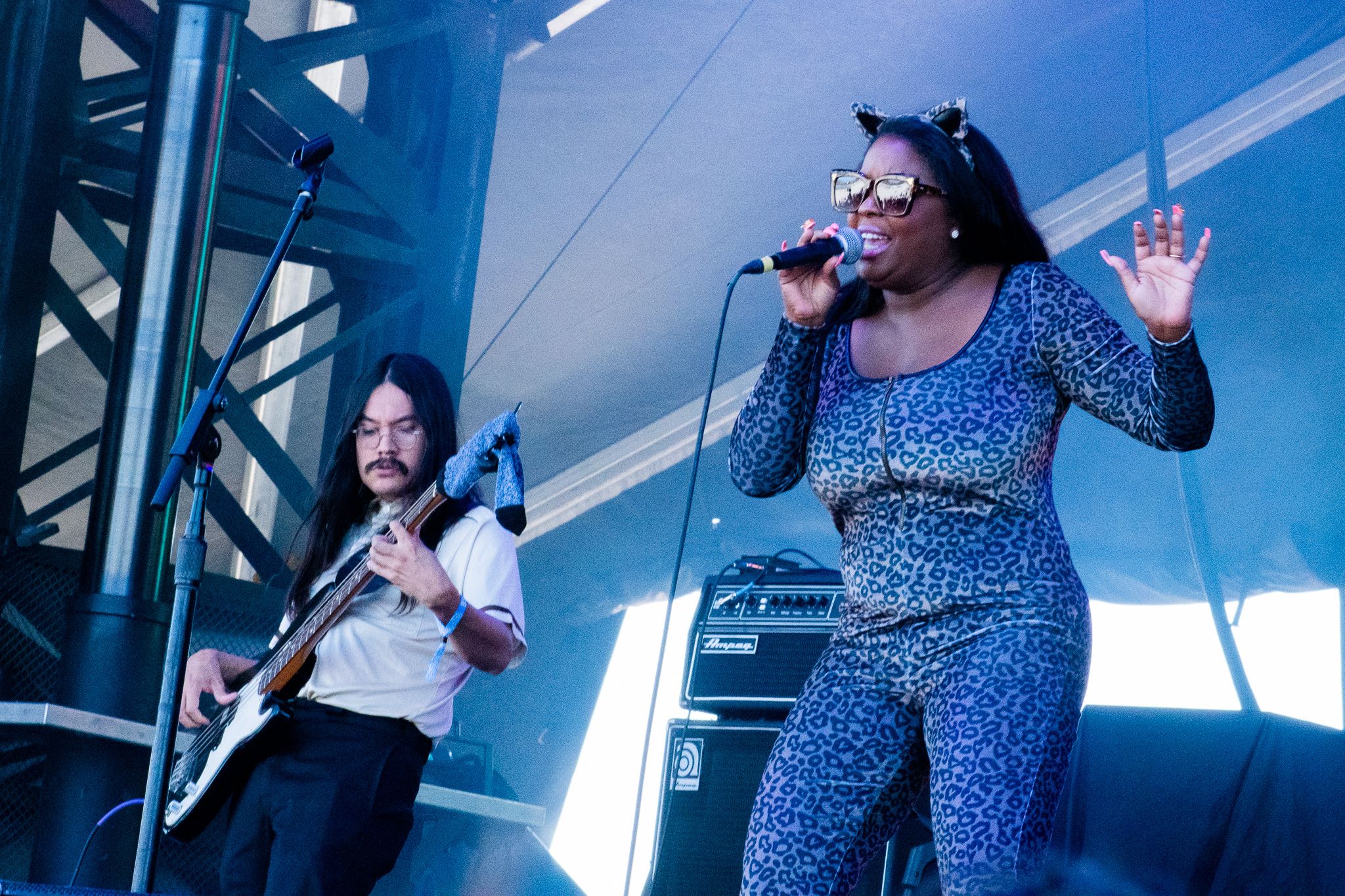 Photo by Jeanna Fournier
LADY WRAY
"Lady Wray's Desert Daze 2022 set was magic. Festival attendees like me, who danced under the brutal sun during the 2:30pm set, were rewarded handsomely with a peaceful, easy feeling which I still cannot shake. During earlier heavy Covid lockdown days, I spent many solo dance parties rocking out to Lady Wray's many gems, such as 'Come On In' and 'Piece Of Me.' It was an absolute treat to experience Lady Nicole Wray live — shining bright, bringing a swaying crowd of music kind music lovers together — all the while, wearing a groovy disco cat suit, sparkly tail and all! Shout out to Phil of Desert Daze for an incredible weekend, Brainstory, the incredible band who backed Lady Wray, and Big Crown Records for giving great artists like Lady Wray a home." - Sean Fleming
---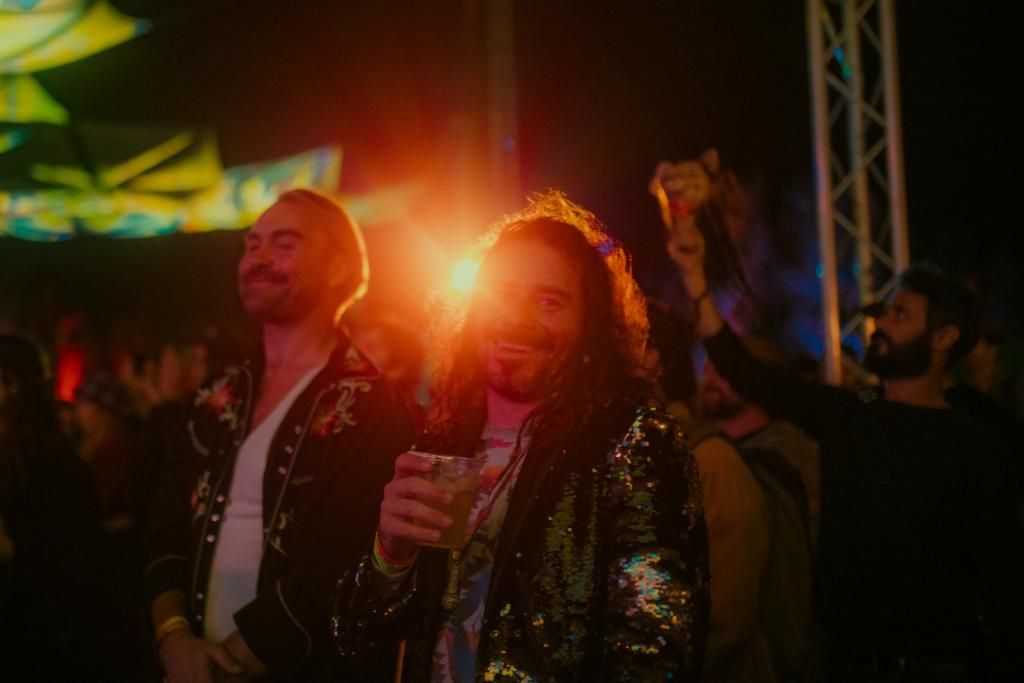 Photo by Nikki Neumann
SEAN FORTIER - SINGER + GUITARIST OF THE NATURAL SUPERNATURAL
Music Pick: Kikagaku Moyo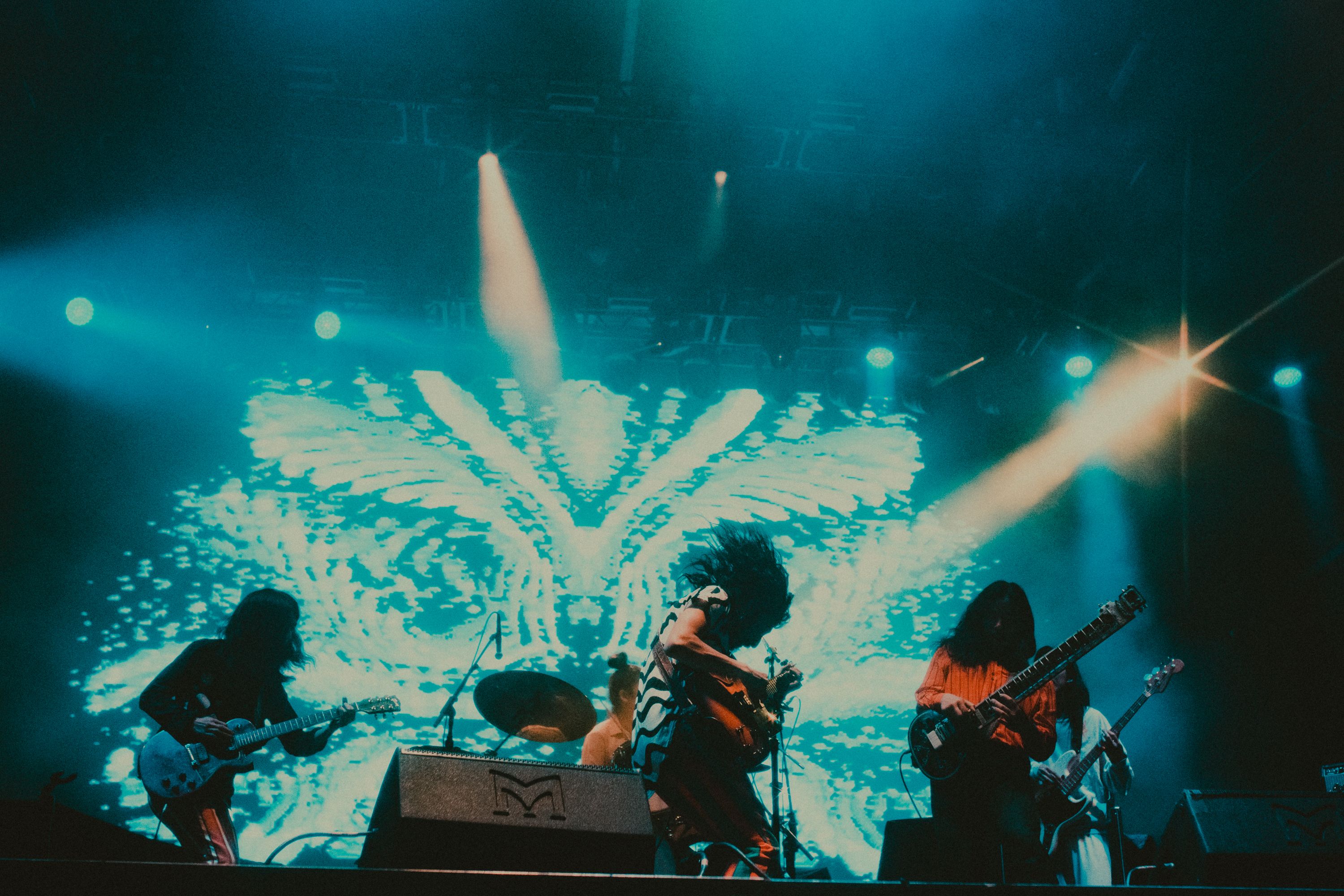 Photo by Nikki Neumann
KIKAGAKU MOYO
"It was my birthday. I was sitting in a cozy independent radio station in the back of a rock memorabilia stuffed bar called the Boogaloo in North London. An acoustic guitar resting on my lap. It was my first time performing on air, and now I was being interviewed by an amazing keyboardist named Mickey Beans.  And I was frozen in place, my mouth hanging open – "  
'Kikagaku Moyo...' 
'I love them!'
'They're breaking up.' 
'Wait what?' 
It was my birthday... 
"At the 9th Annual Desert Daze, 4 months earlier, Nikki slips a festival band on my wrist and looks me in the eyes – 'I'll meet you right here for Kikagaku Moyo', before launching herself into the photo pit, camera clicking like an overgrown cicada. We never found each other, but I did watch the set on the strength of her vociferous recommendation. Oof. What a band." 
"And now a year later, the last time I see Kikagaku Moyo, Nikki and I finally caught them together at The Wiltern a week ago. She's in the photo pit again. I'm walking with Jeanna and Polartropica, newly minted artist wristbands hanging from their wrists – we part company as they meander backstage. Intricate, melodic sitar lines hang in the air writing glowing cursive in the neon haze. Kikagaku Moyo."   
"I find myself backstage, then sidestage. My black sequined blazer and long hair good enough to shuttle me through security. I find Jeanna and Polar (her mushroom hat a beacon), just as Go, Tomo, Kotsu, Daoud, and Ryu slip into a groove tasty enough to make Thomas Keller blush, filthy as a pair of Desert Daze dress shoes."  
"Geometric shapes (Kikagaku Moyo) emblazon on my eyelids as acid guitar riffs bloom out of the fertile, polyrhythmic soil, seeping rootlike tendrils into all of us – dissolving skin and pooling spirit and soul into a resplendent mixture that shines like the rainbow moon over Lake Perris. It's tribal. It's ancient. It's forever. A band practiced in the art of psych rock as a psychedelic."   
"I won't see Kikagaku Moyo again. They're breaking up. I missed the years of busking in Japan. I missed the endless, roiling jam sessions. They're breaking up at their peak, because they're at their peak. 'We've accomplished what we wanted to as a band.'  What a thought."   
"As the final notes ring out and Kikagaku Moyo give their final North American Festival bow, an overwhelming sense of love and gratitude pours out of me. I look around, people are crying. Others shuffle off to Shannon and the Clams, others jockey for a spot for Tame Impala. I stand in joyful silence. I'd seen a life well lived, and there's no sadness in me."   
"The night draws to an inky close and I close my eyes, sequestered in a tent buffeted by campground revelry. I'm myself again, but desperately more. I'm shivering with inspiration. Kikagaku Moyo…The band that reaches forward through time and inspires me time and again: Thanks for the past, the present, and the future. I look forward to our next adventure." - Sean Fortier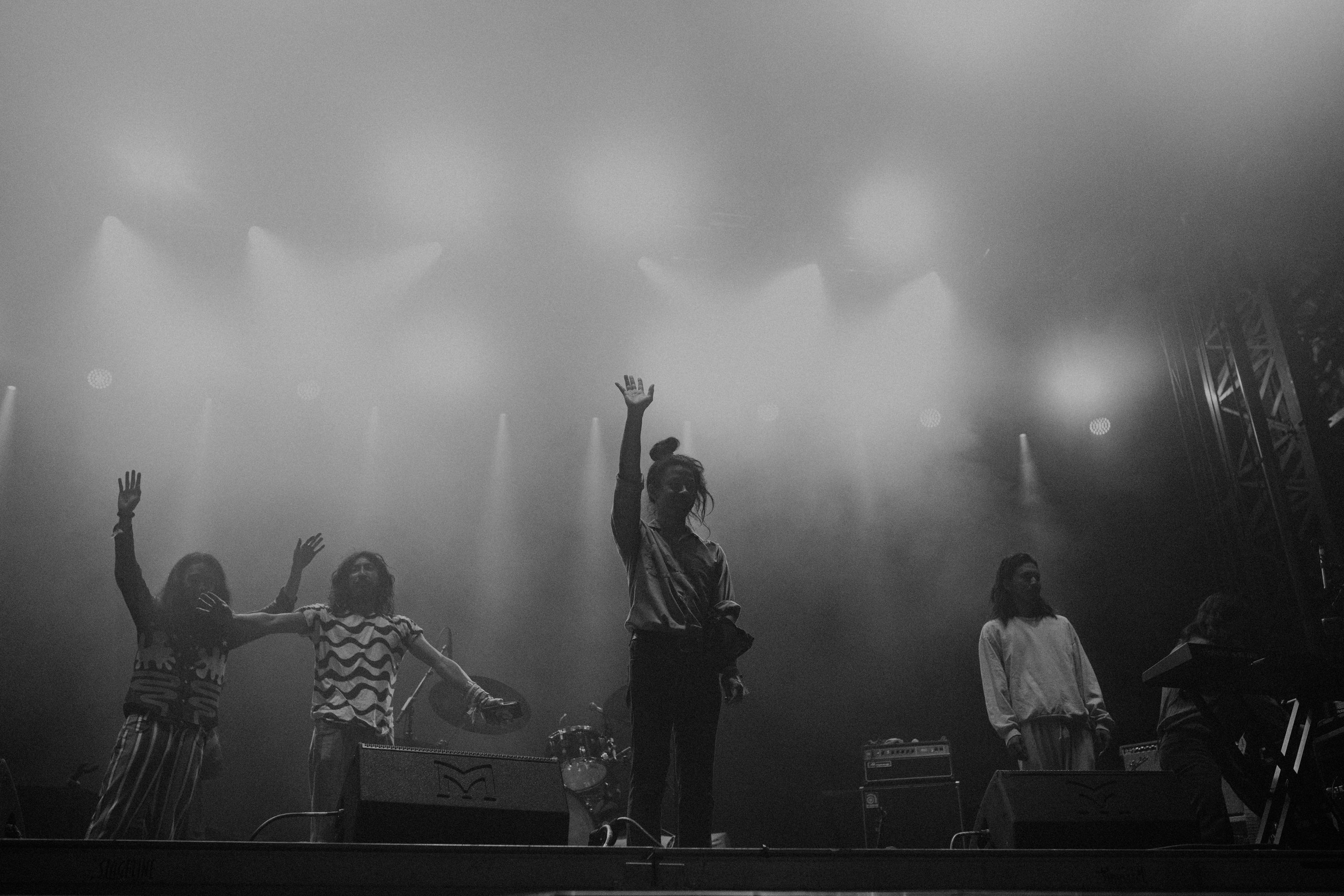 Photo by Nikki Neumann       
---
Thank you to all of the wonderful LA musicians and creatives who contributed to our article. And special thanks to Nikki Neumann for the rad photos! You can give them a follow at the links below.
Featured LA Artists:
Sean Fortier - The Natural Supernatural
Shane Graham - Dream Phases / Supergloom
Christian Gisborne - Velvet Starlings
Jeanna Fournier - Little Galaxies 
---
Congrats to Desert Daze on their 10 year anniversary! It was one hell of an exploratory adventure and we can't wait to see what next year's lineup looks like. Until next time! 🚀