"On Your Side" is the debut song and collaboration from producer Xinovia and singer-songwriter Aimie Lovett Sommer. Aimie's sparkling vocals and infectious harmonies soar through a dark wave of pulsing rhythms and a palette of glossy synths that uplift the listener with the warmth of a helping hand. The electronic infused production makes us feel like driving under neon lights, while evoking the emotive style of Kate Bush and more recent synth-pop collaborations like M83 and Susanne Sundfør.  
The complimentary visuals in the new music video, directed by Selena Moshell and Marie-Michele Jasmin-Belisle, sail through scenic desert landscapes in ethereal drone shots with an alluring dance performance by Frida Dawson alongside a mysteriously cool and collected Xinovia. Aimie appears in an effervescent, hand-sewn dress, like a floating goddess with her cloud-like sleeves catching the breeze in the soft light as the sun escapes into the desert darkness.  
We chatted with the duo about how Aimie piecemealed her costume for the new music video, the process of working together, and an upcoming international collaboration... 

"I'm not a seamstress, so I had to throw it together by hand and I didn't use a sewing machine... I kind of piecemealed it... I'm really big on making Halloween costumes every year. So I was like okay, from building pieces together, throwing pieces together, to end up with a costume at the end. I was like, I think I can do this. And it worked, I think it turned out pretty well." -Aimie
After quitting music for several months, the indie-pop performer and DJ formerly known as Danni Ammon reincarnated her sound and emerged as Xinovia. While many of us continued to drift into the desolation of a pandemic, she honed in on her woodwork skills and took it upon herself to build her own studio. With just a drill, saw and a helping hand from her wife, Xinovia created Daisypants Studio.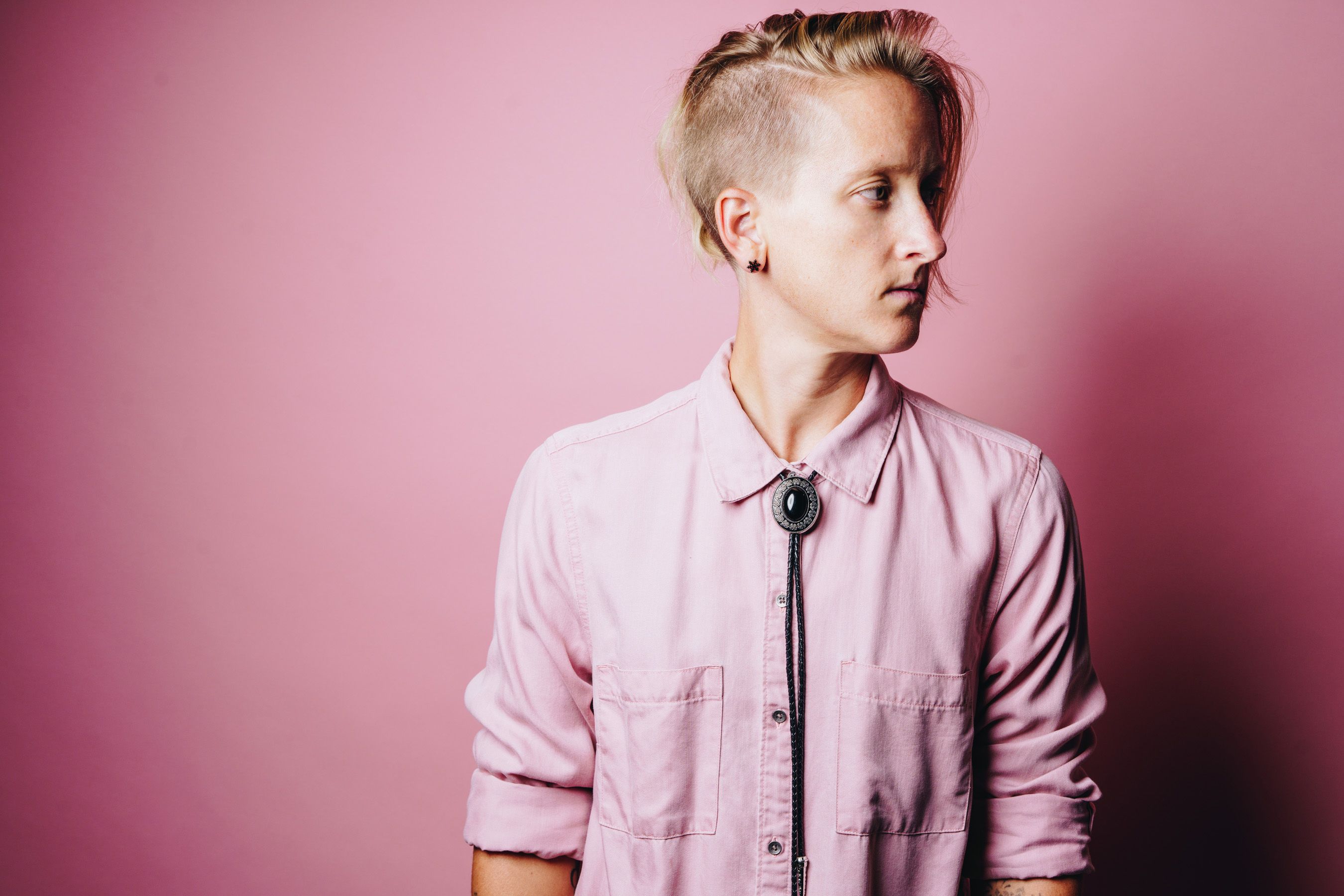 "…we had a couple of people that we could have called and they were like, "yeah, call us, call us, we'll come over, we'll help you out," and they only live like around the corner, but every time we got to that point, we were just like, "we're going to do it ourselves. We're going to show them we can do it," and we did." -Xinovia
"On Your Side" is Xinovia's debut release as a producer. Xinovia says she drew inspiration from Scottish band Chvrches and the Serum, a digital synth she says is her favorite piece of gear she used to create this synth heavy pop song before handing it over to Aimie to write the lyrics and melody, evolving the song together.  
"When I wrote this track, I wanted to do a synth heavy track with big drums, but something that could also be a little bit danceable, a little bit upbeat, in sections. And the main inspiration, if I'm going to go down the alley of telling you the artist I was listening to, Chvrches was a big influence, because I love everything that they do synth-wise, like everything they use just sounds amazing." -Xinovia 
Once the instrumental track was in Aimie's hands, she listened to it on repeat during her long walks until she came up with the melody, which inspired the lyrics.  
"The lyrics are about having lost friendships or lost connections with someone, but still maintaining that love and care for somebody and seeing them in pain and wanting to reach out and in someway let them know "hey, I'm on your side no matter what" and hoping that they will accept that help when they need it. But just trying to remind someone who you were once close with, that it doesn't matter that we are no longer close; if you need my help, I'm going to be there for you." -Aimie 
The two artists met on Instagram when Aimie was putting together a Tom Petty tribute show with her production company, Softer Sex, and she asked Danni to play. The artists shared a laugh when Xinovia recalled Aimie accidentally messaging her instead of another performer, but Aimie remembers discovering Danni as she was searching for pop artists who could bring variety to the night.  
"Now I'll have to go back and look at the message because I thought she was someone else replying, but I absolutely wanted her to play it. Because she just had that really fresh, pop girl sound and I wanted her to do it and she did an amazing job." -Aimie 
Danni later joined Aimie's solo project, Loretti, as the drummer. After discovering they were practically neighbors, they spent 3 years hanging out and bonding over music and everything else.  
"Danni as a producer has influenced me because she pushes me in different directions vocally than what I focus on for Loretti. For my solo project, Loretti, it's very specifically influenced by childhood memories of music and working with Xinovia, the producer, really pushes me into different directions vocally and draws on areas that I don't usually access otherwise." -Aimie 
The debut single from Xinovia and Aimie Lovett Sommer is just the first of many to come, including an international collaboration with Vancouver artist Elle Wolf. We are excited to hear more from this dynamic duo firing up the LA music scene with their catchy and heartfelt indie-pop tracks.  
"If there's one thing that I have learned over the last 3 or 4 years, it's a very important thing; it's to play to your strengths and don't try to do everything. So I can do everything a little bit, so it's really easy to fall into the trap, just like I'm going to do everything. I'm going to sing, I'm going to play every instrument on the song, I'm going to do this, but you end up getting a better product when you get someone else in. Like, Aimie is going to write the song, this person is going to sing it, I'm going to get my neighbor who is an awesome guitar player to come and play the guitar line because I'm not as good as him. So once you learn to do that, I think you make better music…" -Xinovia
Listen to "On Your Side" and connect with Xinovia and Aimie Lovett Sommer at the links below:
https://www.instagram.com/shaimie/
https://www.instagram.com/xinoviamusic/